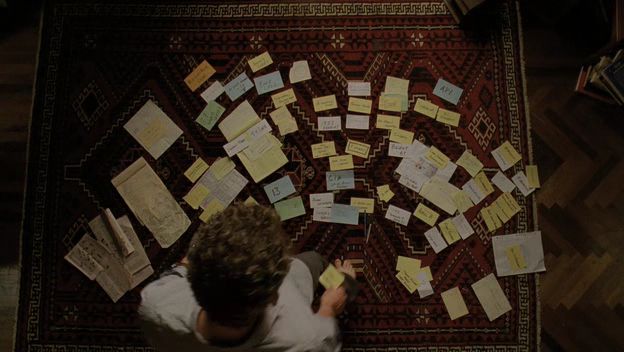 Un exemple de toile euristique
...

Comme l'a souvent dit Jean-Baptiste Thoret un film peut avoir été tourné dans les années 80 et être formellement par exemple, un film de la décennie précédente (ou a contrario de celle d'après) ; c'est le cas de la série télévisée Rubicon qui esthétiquement renvoie directement aux années 70, et dont les thèmes renforcent indiscutablement cette appartenance en évoquant des films tels que Les 3 jours du Condor (explicitement cité par l'un des protagoniste) ou encore À cause d'un assassinat.
...

Will Travers travaille pour l'API (American Policy Institute) l'Institut Américain de Géopolitique, une officine créée après le 11 septembre dont l'activité est d'analyser et de synthétiser la masse de renseignements collectée par les agences gouvernementales ; et de proposer des solutions aux menaces détectées.
Si le 11 septembre a changé définitivement pour nombre d'entre nous l'appréhension que l'on avait du monde, l'API s'inscrit également dans une sorte de révolution.
Car cette société si elle travaille avec les agences gouvernementales américaines (mais aussi étrangère d'ailleurs) CIA, FBI etc... parait être une entreprise privée, même si les capitaux (ou du moins une partie) proviennent du gouvernement U.S.
Or donc, l'API apparaît comme la parfaite illustration de ce que l'on peut appeler le capitalisme cognitif.
C'est-à-dire des formes ou des situations de travail dans lesquelles la contribution créative, intellectuelle, scientifique est essentielle ; et où l'information et la connaissance tendent à occuper une place centrale. Mais surtout le capitalisme cognitif est une société de la connaissance régie par une organisation de type capitaliste. L'API transforme la connaissance en une marchandise fictive mais dont les répercussions sur le monde réel sont loin d'être de simples expériences de pensée sans conséquences. Tant physiques que politiques ou ..... financières.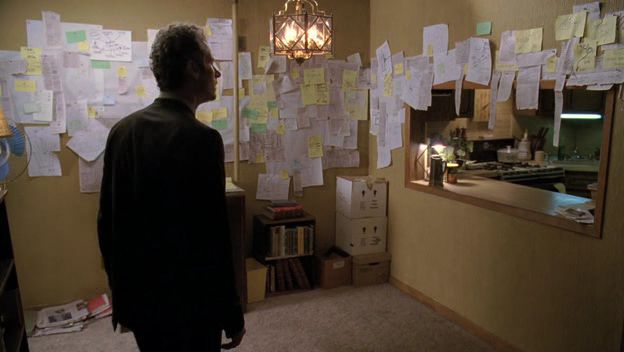 C'est de l'une de ces répercussions bien tangibles dont va faire l'expérience David Hadas, l'un des meilleurs analystes de l'API, et ce sera le point de départ de l'enquête de Will Travers, son protégé.
De manière cocasse David Hadas apparaît comme une personne particulièrement superstitieuse, et la série Rubicon ne comptera que treize épisodes.
Ceci étant, si le dernier épisode souffre de l'annulation d'une seconde saison Rubicon est une sacrément bonne série télévisée tout à fait dans la veine des deux films que j'ai précédemment cités et qui mérite selon moi, le détour (rien que le générique vaut ce détour).
L'illustration sonore en début de billet commence avec le thème de Michael Small pour le film d'Alan Pakula À cause d'un assassinat suivi par l'annonce de l'assassinat de John F. Kennedy, puis de l'attentat du 11 septembre 2001, et se termine par un extrait de Born to be wild.