...

Premier essai en français sur Steve Ditko ; Steve Ditko : L'Artiste aux masques a paru chez

Les Moutons Électriques, éditeur

dans la collection

Bibliothèque des Mirroirs

.
Comme d'habitude cet éditeur soigne la présentation avec une magnifique couverture de Sébastien Hayez qui a cependant le regrettable inconvénient d'utiliser un dessin qui n'est pas de Steve Ditko (mais de John Romita Sr.), un comble !
Steve Ditko en 1944
Quand on connait un peu le talent artistique de Steve Ditko (et si ce n'est pas le cas, la riche iconographie du présent opus vous en donnera un large aperçu) on ne peut que s'étonner d'un tel choix (qui serait tout aussi étonnant par ailleurs si son talent avait été moindre).
Shade en français 1979
...

Tristan Lapoussière durant les 260 pages de son ouvrage choisit l'approche chronologique ; du début des années 50

(ses premiers travaux publiés)

à maintenant, car Steve Ditko produit encore - même si c'est de façon "marginale". Plus une brève incursion biographique antérieure, et pour cause.
La particularité de cet homme c'est sa persévérance à vouloir s'effacer, à se retirer du monde, alors que paradoxalement compte tenu de son statut dans le monde de la bande dessinée son adresse est dans l'annuaire, à tel point qu'aucun livre dont il est le sujet ne bénéficiera de sa collaboration, ni n'en a bénéficié auparavant. On mesure le travail qu'a dû accomplir Tristan Lapoussière.
Steve Ditko : L'Artiste aux masques est un livre particulièrement agréable à lire : le style est fluide et, comme je l'ai déjà précisé l'iconographie est riche. Du reste elle accompagne et complète avec beaucoup d'à-propos le texte.
C'est par ailleurs un essai très intéressant, et je le rappelle le premier en langue française, consacré à l'un des fondateurs (dont les créations sont encore d'actualité comme par exemple l'armure rouge & or d'Iron Man) - et pas le moindre - du Marvel Age, néanmoins je suis resté sur ma faim sur au moins deux points dont j'aurais aimé avoir les lumières de l'auteur.
...

Si Steve Ditko s'est mis en retrait de la vie médiatique il n'en reste pas moins un auteur engagé au travers de l'Objectivisme, en ce sens qu'il utilise son art pour faire passer un discours politique (dans le sens noble de ce terme).
The Question (Atomos n° 8 1970)
Non seulement l'Objectivisme est visible dans une grande partie de ce qu'il produit, mais cette philosophie semble architecturer sa propre vie ; et il me semble que cela aurait pu être traité plus en profondeur et en regard de la société

(
à quelques moments clés de l'Histoire)
dans laquelle a vécu (et vit encore)
S
teve
D
itko. Ou le rapport entre l'importance du réel dans l'
Objectivisme
et l'utilisation des masques et des faux-semblants par
D
itko. Ou approfondir les causes de l'absence de ses personnages les plus radicaux lors de la période du grim and gritty. Il me semble qu'il y avait là un beau chantier en perspective.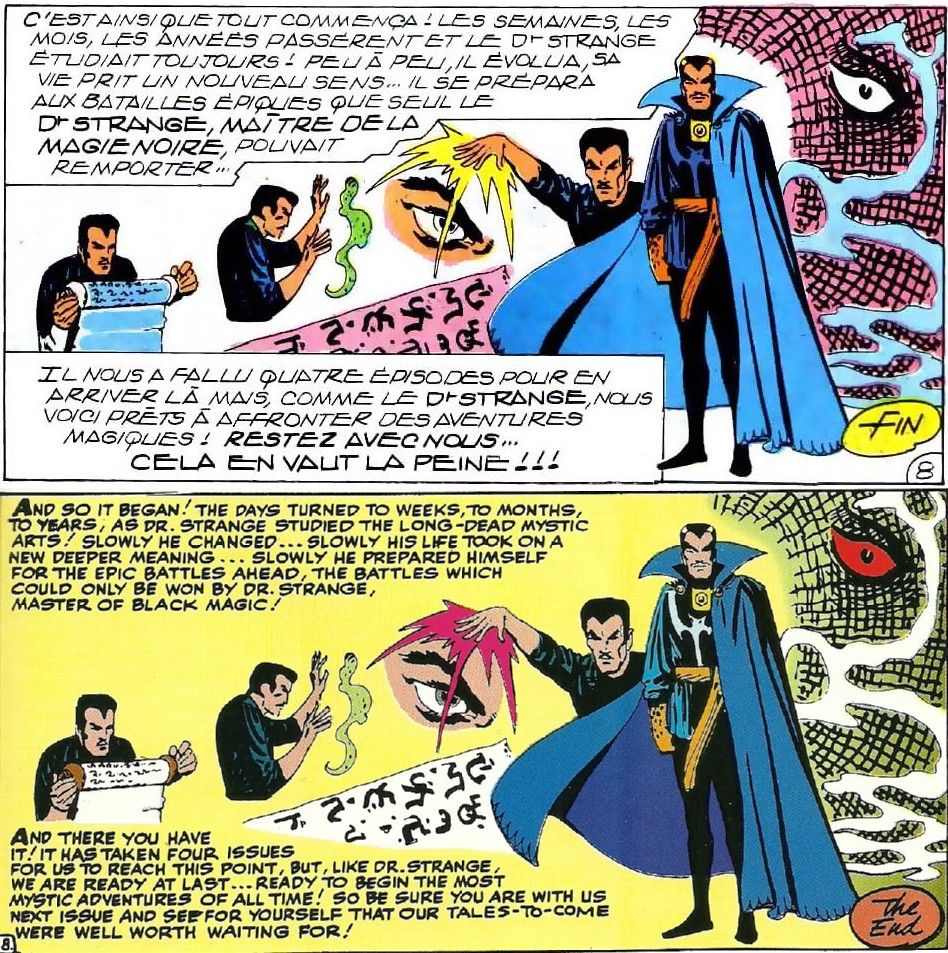 Autre exemple

(c'est d'ailleurs le second point)

j'aurais été curieux de lire une analyse du rapport qu'entretenait Steve Ditko avec la contre-culture, au mouvement hippie, d'autant qu'il est le créateur du Dr Strange grand découvreur de dimensions étranges. Dans quelle mesure les aventures du maître de la Magie noires ont-elles influencées l'art psychédéliques ? (ou l'inverse ?).
Shade in Super Héros n°7
Ainsi il ressort qu'à l'instar de son sujet qui "vit dans la solitude de son studio de la 51ième Rue à New York"

(Page 251)

cet essai s'est retiré de tout contexte ou presque ; à quelques brèves exceptions on ne saura rien des rapports qu'il entretenait avec les autres tel Jack Kirby par exemple, autre architecte du Marvel Age.
Toutefois il est clair que chaque lecteur a ses propres attentes mais qu'en tout état de cause la plus belle fille du monde ne peut proposer que ce qu'elle a. Et Steve Ditko : L'Artiste aux masques propose un essai plutôt roboratif.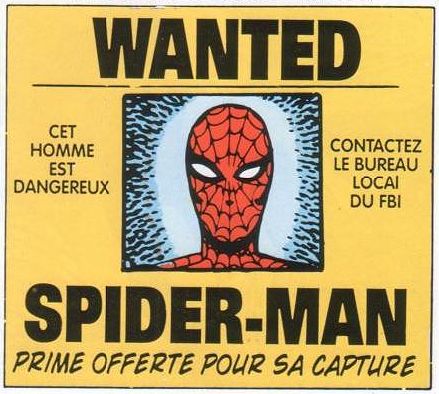 Précision : l'iconographie que j'ai utilisée n'est en aucun cas celle qu'on trouve dans l'ouvrage de Tristan Lapoussière, qui n'utilise que des documents originaux, à savoir publiés aux U.S.A.