...

Omega the Unknown est une série créée par Steve Gerber & Mary Skrenes pour l'éditeur étasunien Marvel et qui a paru à partir de 1975 tout au long de seulement 10 numéros. Les numéros 7 et 8 ne seront pas l'oeuvre du duo de créateurs mais respectivement de Scott Edelman puis de Roger Stern.
Mon intérêt pour le travail de Steve Gerber m'a amené à m'intéresser également aux traductions de ses scénarios dans l'Hexagone et à découvrir l'un des secrets d'Oméga.
C'est à l'éditeur AREDIT/ARTIMA que l'on doit d'avoir pu lire les aventures de ce personnage en français entre 1979 et 1980 dans la revue L'Inattendu.
Steve Gerber est un scénariste qui n'hésitait pas à transporter ses intrigues d'un titre à l'autre, dernièrement je vous ai proposé une aventure en trois parties dont les deux premières sont parues dans Marvel Two-in-One et la troisième dans la série consacrée aux Défenseurs. Si je vous précise ce que vous n'aviez pas manqué de remarquer si vous avez lu ces trois aventures c'est parce que à la fin du dixième numéro de Omega the Unknown, Gerber & Skrenes donnent rendez-vous à leurs lecteurs dans les pages de The Defenders.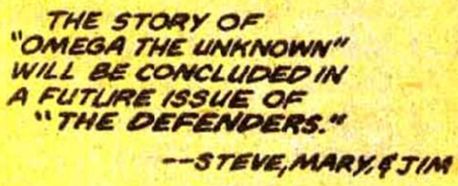 Mais contre toute attente ce ne sera pas le cas, ou plus précisément il faudra attendre 1979 (soit deux ans après l'arrêt de la série) et Steven Grant pour qu'Omega réapparaissent dans l'univers Marvel.
Précision supplémentaire Steven Grant le scénariste des numéros 76 et 77 de The Defenders n'a pas eu accès aux notes de Gerber & Skrenes.
Ceci étant dit les lecteurs français des éditions AREDIT/ARTIMA ne se sont probablement pas rendu compte des turpitudes éditoriales de cette série puisque si elle a été publiée dans les numéros 17, 20, 21 et 24 de L'Inattendu ; cet éditeur avait la fâcheuse habitude de ne pas avoir de ligne éditoriale claire et de proposer ses séries de manière plutôt erratique.
En outre le dernier numéro de la série Oméga a été publié dans le même numéro de L'Inattendu que le numéro 76 des Défenseurs (ainsi que le 77 d'ailleurs) sans que les crédits liés à la série du non-groupe (alias les Défenseurs) n'y soient proposés.
À gauche la dernière page du n°10 qu'ont pu découvrirent les lecteurs étasuniens, à droite ce que découvriront les lecteurs français.
Quelques année plus tard la page que découvriront les lecteurs de The Defenders ci-dessous à gauche, et à droite celle que liront les lecteurs de L'Inattendu n° 24 juste en tournant celle que j'ai reproduite ci-dessus à droite.
Merci à Slyge et à JugeDredd pour les pages V.F proposées ici.
(À suivre ?)