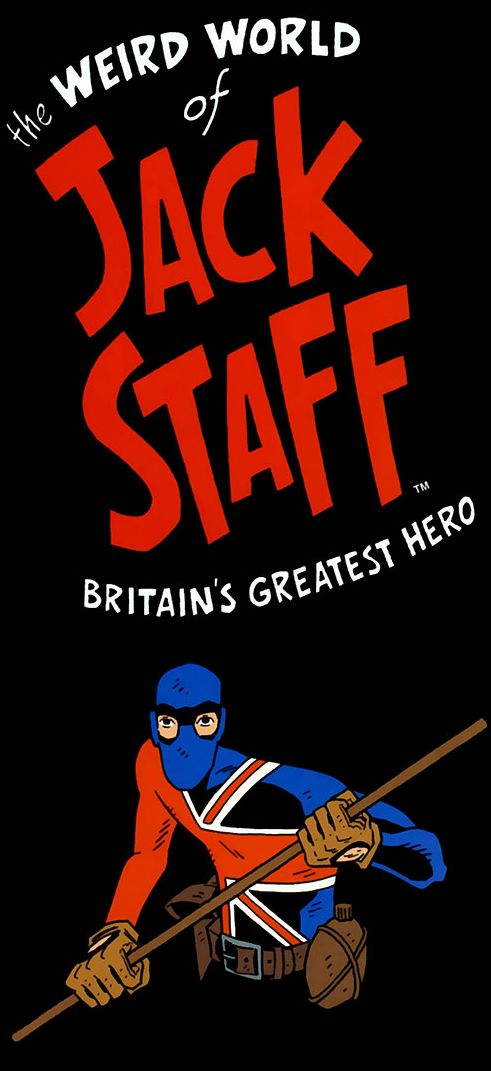 ...

Souvent présenté comme le résultat d'une proposition faite à Marvel pour le compte d'un de ses personnages (Union Jack) Jack Staff est en fait le résultat des cogitations de Paul Grist après qu'il eut appelé Marvel pour savoir si l'éditeur serait intéressé, justement par une proposition sur Union Jack ; n'ayant aucune réponse mais lui-même intéressé par sa propre idée, il s'est mis à développer ce qui deviendra Jack Staff. Mais précise Paul Grist dans l'édito du troisième numéro de The Weird World of Jack Staff Britain's Greatest Hero, il n'avait pas encore écrit quoi que ce soit sur le sujet pour l'éditeur étasunien. Ceci étant dit, le lecteur attentif aura remarqué le titre à rallonge de la série ; il y a à cela une raison que les lecteurs de longue date connaissent : si au départ (2000) la série s'intitule du nom du héros, elle a toujours été le point de rendez-vous d'une multitude de personnages opérant dans la ville de Casteltown. Ainsi, et c'est là l'une des particularités de Paul Grist, la narration de chaque numéro suit en même temps les péripéties de plusieurs personnages présentées comme ses propres aventures mais selon un découpage original : un peu comme si on réunissait les pages d'un numéro de Batman, d'un numéro de Superman et d'un numéro d'Hellblazer au sein d'un fascicule, chacun des protagonistes se voyant octroyer des séquences de deux à trois pages, à la suite des unes des autres. Un univers (vraiment) partagé dont, dans le cas de Jack Staff l'épicentre est la ville de Castletown.
...

Or donc dans cette ville de Castletown on croise aussi bien des flics hardboiled, une unité d'enquête dont le terrain de jeu est le surnaturel, bien évidemment des magiciens, des voyageurs du Temps, un chimpanzé responsable de la "normalité de la réalité", des extra-terrestres ou peut-être est-ce des habitants d'un univers parallèle, des amis imaginaires etc .. et tout ce petit monde vit des aventures qui se croisent et s'entrecroisent, des aventures

(et des moments plus intimes)

menées de main de maître par Paul Grist.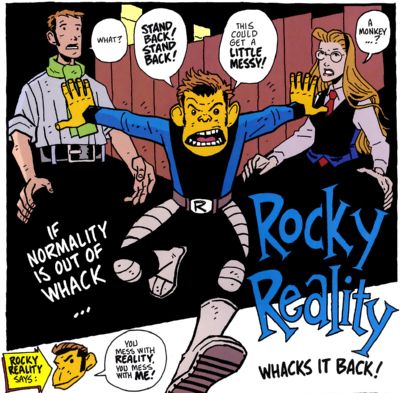 ...

L'une des particularités qui apparaîtra au lecteur ayant un peu de bouteille dans le domaine de la BD (et plus largement dans celui de la Fiction), ce sont les clins d'œil que s'autorise le scénariste.
Par exemple Zipper Nolan n'est pas sans évoquer Little Nemo de Windsor McCay (et ses aventures évoquent tout autant Peter Pan que L'Île au Trésor), ou bien encore les Freedom Fighters (qui opèrent durant la Seconde Guerre Mondiale) sont-ils un bel hommage aux Envahisseurs ( a.k.a The Invaders de la Marvel) ; de même que The Eternal Warrior semble être l'incarnation du Champion Éternel de Michael Moorcock mixé avec Adam Eterno

(l'un aillant peut-être influencé l'autre, ou pas)

. En outre Paul Grist n'hésite pas à transplanter dans ses histoires des personnages appartenant à notre réalité tel Morlan the Mystic qui n'est pas sans ressemblances avec Alan Moore (bien qu'au sujet de ce dernier j'ai démontré avec vigueur qu'il est probablement une création de Steve Moore) : dans l'une des histoires où il apparaît, Morlan n'hésite pas à avaler une sorte de démon qui semble lui faire l'effet d'un buvard de LSD.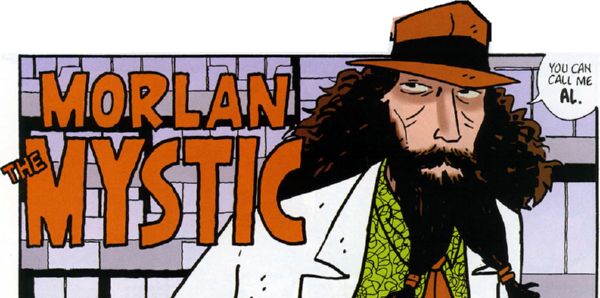 D'autre part à l'instar d'Alan Moore

(justement)

et de sa fille Leah (Cf. Albion), mais avec plus de réussite selon moi Paul Grist s'inspire du "cheptel" britannique en matière de justiciers, super-héros et autres surhommes.

Des personnages que le lecteur français a connus (pour certains) au travers des Petits Formats de l'éditeur MonJournal : Janus Stark, Adam Eterno, L'œil de Zoltec (chez Jack Staff on parle de la "Pierre de Valiant" ; Valiant étant le titre d'une revue anthologique d'aventures en Grande-Bretagne où ces personnages s'ébattaient) ou encore Main d'Acier et bien d'autres encore ....
Toutefois si d'aventure vous faisiez partie de ceux qui n'ont pas connaissances de ces références il est peu probable que cela vous empêche de savourer l'inquiétante étrangeté des aventures de Jack Staff.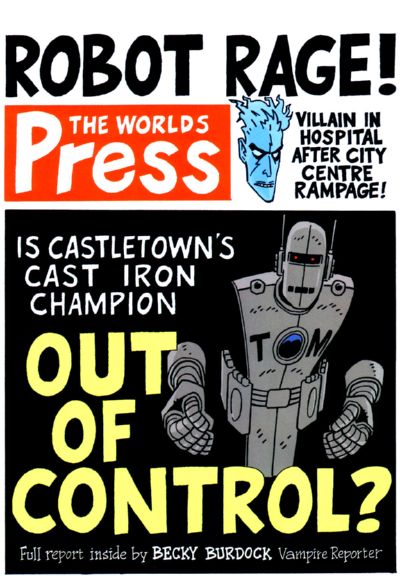 ...

Mais Paul Grist n'est pas seulement scénariste, il est aussi le dessinateur de sa série ; et il fait partie de ceux qui réfléchissent à la meilleur manière de raconter en image une histoire. N'hésitant pas à s'affranchir de la couleur, voire à utiliser la bichromie, ou le format dit à l'italienne. Chaque mise en page, chaque case est pensée en terme de narration selon le contexte évoqué ou/et de personnage, et c'est un véritable plaisir de lecture. Les artistes qui s'occupent de la couleurs ne sont pas peu dans la réussite de cette bande dessinée : Phil Elliot, Craig Conlan, Erik Larsen, Eric Stephenson, Bill Crabtree. Un soin tout particulier est également apportée aux couvertures et au lettrage ....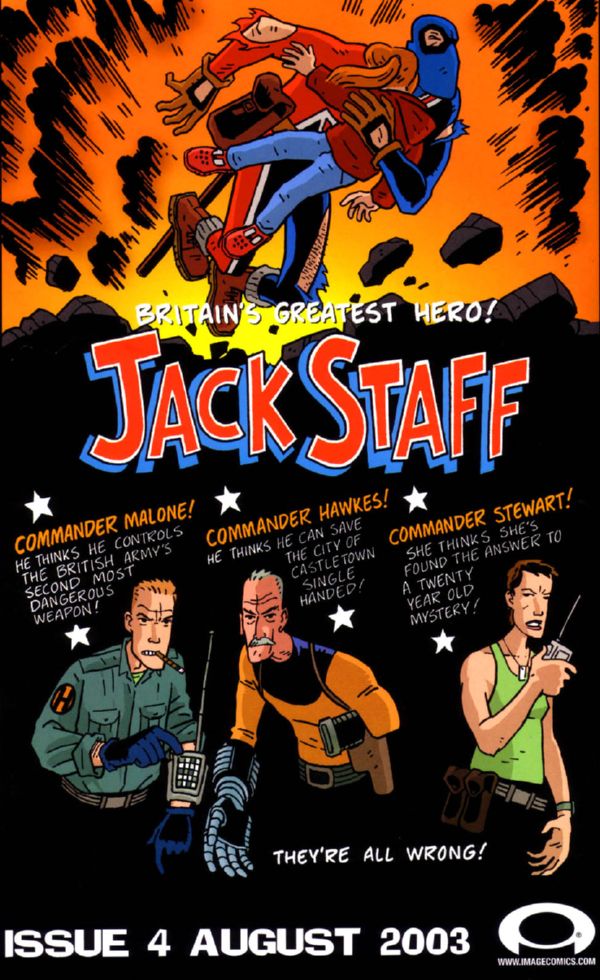 Toute cela au service d'histoires de qualité, toujours surprenantes, amusantes, pleines de suspense et de personnages "hauts en couleur", un univers qui mérite selon moi largement le détour ... il est d'ailleurs bien dommage qu'aucun éditeur hexagonal ne se soit penché sur cette série.