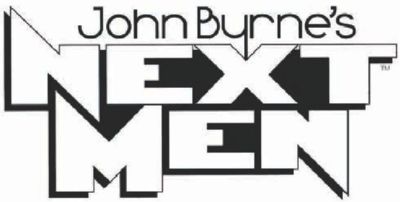 ...

Si la série John Byrne's NEXT MEN (JBNM) appartient au genre dit de super-héros, elle s'inscrit néanmoins dans un courant dissident que je qualifierait de "réalisme super-héroïque". Ce courant propose de pousser dans ses derniers retranchements des questions telles que :
...

• D'où viendraient des êtres dotés de super-pouvoirs s'ils apparaissaient dans notre monde ?
...

• Quel impact auraient-ils sur la société ?
Et surtout, les auteurs qui tentent l'aventure du "réalisme super-héroïque" dotent d'une capacité qui paradoxalement se signale par son absence dans la totalité des titres de "super-héros classique" (par opposition à ceux du "réalisme super-héroïque") : une sexualité.
Ce qui veut dire d'une part qu'elle est explicite, mais également qu'elle a des répercussions sur le vie des personnages.
À cela s'ajoute une violence proportionnelle aux pouvoirs dont sont dotés les super-protagonistes de ces récits, et dont l'incidence n'est plus seulement matérielle.
Ces deux deniers points, la sexualité et la violence sont par ailleurs souvent traités d'une manière jusqu'au boutiste.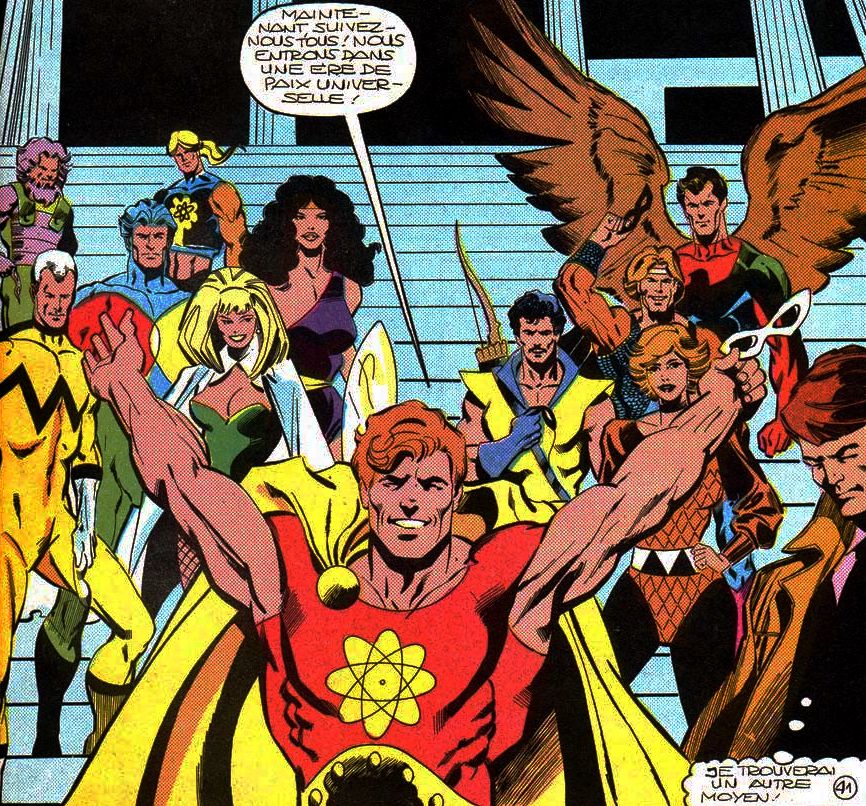 L'Esquadron Suprême
On peut dater approximativement l'apparition de ce courant à partir de la publication de Marvelman, de Watchmen, de l'Esquadron Suprême, ou encore de Batman : Dark Knight.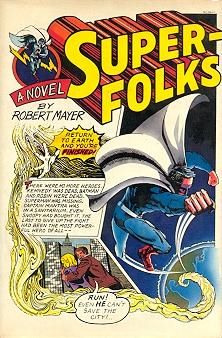 Cette approche où l'on super-héroïse le monde réel doit beaucoup à celle proposer par Marvel dans les années 60 (où a contrario on humanisait le super-héros), voire au roman de Robert Mayer Superfolks.
Cette démarche somme toute plutôt intéressante aura son côté sombre (sic) le grim and gritty (dur et sombre) qui oubliera que la violence et la sexualité peuvent et doivent s'inscrire dans un projet dramaturgique et non pas être un simple étalage de chair dénudée et/ou meurtrie.
Mais d'où viennent donc les Next Men ?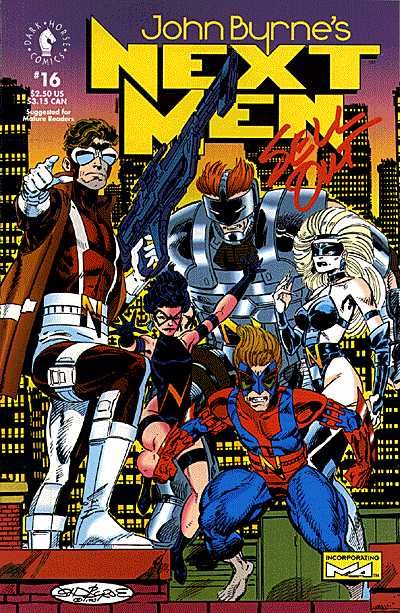 ...
En 1991 une nouvelle idée germe dans l'esprit de
S
tan
L
ee : "Et si on sortait un nouveau titre genre les
X-Men
cent ans dans le futur ?!"
Cette idée semble être le fruit de la fermentation de deux constations : les série mutantes se vendent mieux que des petits pains, et les lecteurs raffolent des aventures où leur sont révélés l'avenir de leurs super-héros favoris.
C'est à John Byrne qu'échoit le privilège de matérialiser l'idée de Stan Lee.
Mais comme vous le savez sûrement les retournements de situation ne sont pas le lot exclusif des comic books ; des divergences apparaissent et le projet initial ( The Marvel World of Tomorrow) avorte.
Si The Marvel World of Tomorrow reste sans lendemain

(un comble)

il donne naissance à deux projets distincts : la ligne 2099 chez Marvel, et les Next Men chez Dark Horse.