..
Je viens de terminer la lecture du recueil
Final Crisis Aftermath
dance
, certainement pas la meilleur idée de ma journée.
Cette équipe introduite dans le
crossover
Final Crisis
est un groupe de super-héros du pays du
Soleil Levant
, de jeunes super-héros.
Écrites par
Joe Casey
leurs aventures ont un petit parfum de
The Intimates
:
Une technologie omniprésente, à la fois dans le monde dans lequel évolue les personnages et dans la narration de
Casey
; ce dernier utilise par exemple
T
witter en lieu et place des récitatifs ; ainsi que dans les thèmes abordés :
Ce groupe de super-héros,
The Super Young Team
, est envisagé sous l'angle du
boys band
: on y parle d'image, de publicité, de
floor
, bref du
djeune
à
donf
(oui je sais ça fait ringard d'écrire ça).
L'atmosphère adolescente y est si bien rendue, que je m'y suis passablement ennuyé, certainement comme lorsque j'étais moi-même ado. Ou comme on s'imagine que les
djeunes
passent leur temps.
On traine, la journée s'étire comme un jour sans pain
(métaphore sujette à caution tant le pain n'est certainement pas ce qui manque ici)
, oh il y a bien ici où là quelque chose qui éveille une lueur au fin fond d'un cerveau plein de foutre et d'acné mais c'est fugace.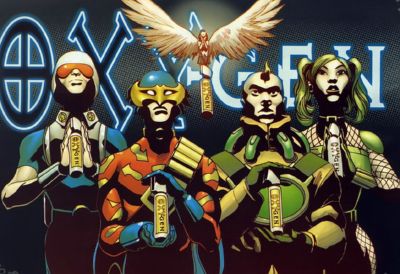 ..
Si vous n'êtes plus un adolescent et que vous voulez retrouver cette sensation de vacuité, de mortel ennui que l'on prête à l'adolescence, ces six numéros de
dance
sont pour vous. Toutefois faîtes une ample provision de
suspension volontaire d'incrédulité
vous en aurez besoin. Quoique, je me demande. ?!
Je ne sais pas si cette histoire fonctionne mieux quand on a lu l'ensemble du
crossover
Final Crisis
mais en ce qui me concerne
(je ne l'ai pas lu)
je n'ai pas accroché, hormis un ou deux petit trucs sympas. ..... Et encore faut le dire vite.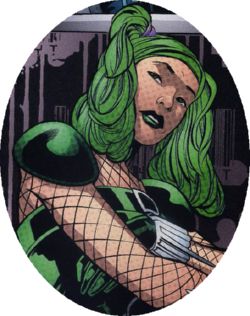 Reste ...
nan
, en fait rien.