...
Toujours dans mes lectures des travaux de
L
auric
G
uillaud, je note dans
L'Aventure mystérieuse
de Poe à Merritt ou les orphelins de Gilgamesh
*
:
...

Comme pour Tarzan, la genèse des "super-héros" passe par la Grande-Bretagne où parut, dès 1913, dans l'éphémère magazine The Wonder l'étrange personnage de "The Winged Man", conçu par E. Dudley Tempest. Cet être muni d'ailes de chauve-souris, affublé d'un collant noir, est présenté en ces mots : "The Story of a Strange Genius who, Possessed of Wonderful Powers of Invention, sets forth to deal out Justice to the Evildoers of the Modern World"

**

. Cette union contre nature de Frank Reade et d'un démon gothique semble le prototype des "super-héros" modernes, Superman et Batman. [...]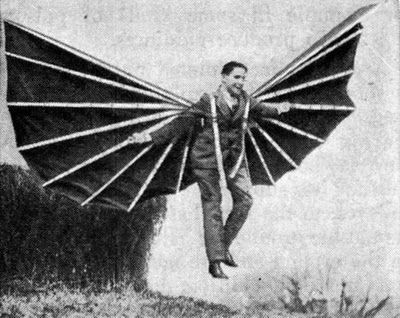 The Winged Man ?
D'une part c'est la première fois que j'entends parler de ce "précurseur", mais plus étonnant encore, je n'ai trouvé aucun renseignement sur ce personnage ailleurs, ni sur cet auteur et non plus sur ce magazine.
*-*
**
"L'Histoire d'un Curieux génie qui, Possédé par les Merveilleuses Puissances de la Science , devient un justicier face aux Malfaiteurs des Temps Modernes. (ma propre traduction).