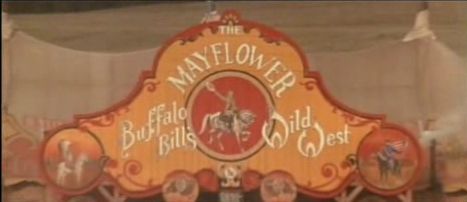 ...
Le chasseur de bisons
B
uffalo
B
ill est une pierre angulaire de la mythologie étasunienne ; d'abord en tant qu'acteur de cette mythologie, mais aussi et surtout en tant que façonneur d'icelle. C'est ainsi qu'au travers de ses spectacles il codifiera la légende en transformant la structure karmique profonde de la colonisation d'un continent en ce qui deviendra le
mème
Far West
.
W
illiam
F
.
C
ody (alias
B
uffalo
B
ill) imprimera un
saut de paradigme
(Cf. la magie du chaos)
à la mémoire collective, il engrammera pour longtemps
(pour toujours ?)
dans la
doxa
une certaine Histoire des
U.S.A
.
2000 ans d'histoire, extrait :
En outre on comprendra aisément qu'un tueur de
bisons
tel que lui soit d'une certaine manière un intercesseur de choix dans cette transmutation de l'Histoire. Ne perdons pas de vue non plus que le rayonnement du
Buffalo Bill's Wild West
a été international ...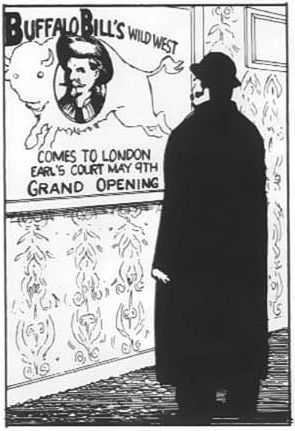 Moore & Campbell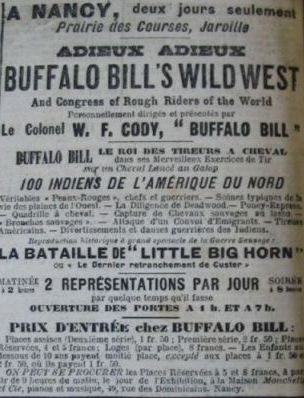 Le vélodrome situé entre les portes Maillot et de Villiers à Neully-sur-Seine porte le nom de Vélodrome Buffalo : il est vrai qu'il a été construit à l'emplacement où se trouvait pendant l'Exposition Universelle de 1889 l'exhibition indo-américaine du colonel Cody alias Buffalo Bill, que l'on a parfois appelé Guillaume Bison en France (Cf. Buffalo Bill de Jacques Portes).
...
S'il est une manière de percevoir de façon claire et ludique cet aspect de l'Histoire des
É
tats-
U
nis, c'est bien grâce au film de
R
obert
A
ltman,
Buffalo Bill et les indiens
. En nous montrant les coulisses du show et les acteurs majeurs de ce
théâtre magique
(ibid)
A
ltman nous invite à voir la construction d'une mythologie
in vivo
.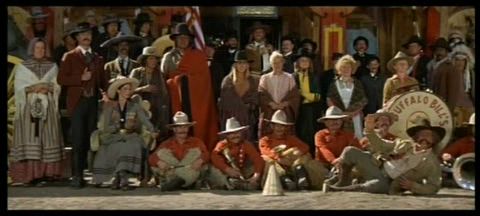 "Il n'est rien de caché qui ne sera révélé ;
rien de secret qui ne sera connu."
(Les Évangiles)
Tous les personnages sont savoureux, incarnant avec vitalité les archétypes de cet
Ouest Sauvage
grâce au talent de leurs interprètes
(sans oublier les doubleurs de la V.F qui font un travail remarquable)
.
Robert Altman a par ailleurs le bon goût de jouer la carte de l'humour, voire du burlesque ce qui a contrario ajoute à la vraisemblance de ce que nous voyons à l'écran. Mention particulière au duo Buffalo Bill - Ned Buntline l'homme qui a façonné Bill :
De son vrai nom Edward Zane Carroll, Buntline avait survécu à sept duels et réchappé à un lynchage à Nashville pour une histoire de femme ; en 1856 il était organisateur du parti xénophobe Know-Nothing (initialement, en 1849, une société secrète surtout anti-irlandaise) ; il a passé presque toute la Guerre de Sécession en prison pour avoir mené des émeutes anti-circonscription. Il rendit célèbres, en brodant largement, les Buffalo Bill, Wyatt Earp, Wild Bill Hickock [..].

Alors qu'il avait déjà popularise Buffalo Bill dans ses dime novels, en 1872, Buntline, pour donner de la vie à sa pièce The Scouts of the Prairie (dont on dit qu'elle a été écrite en quatre heures sous roboratif l'effet de l'alcool), demande à Buffalo Bill et à Texas Jack [..] d'y jouer leur propre rôle, avec dix indiens [..]
Paul Bleton - Western, France Éditions ENCRAGE
B
untline bien que présent au même endroit que
B
uffalo
B
ill
au moment où se déroule l'action du film
, ne rencontrera ce dernier que vers la fin de l'histoire ; ce qui ne l'empêche pas de commenter ce qui se passe à l'écran en donnant sa version de la légende. Hilarant.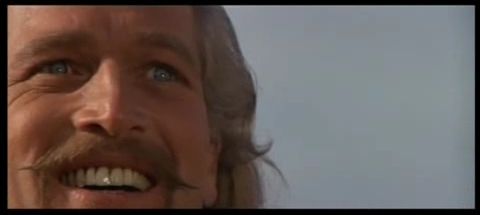 ...
Si le cirque magique de
B
uffalo
B
ill redessine la carte mentale de la psyché collective à l'instar des colons modelant ce "
N
ouveau
M
onde" en faisant fi de son
H
istoire,
R
obert
A
ltman nous en montre les ficelles et les coulisses en un spectacle enlevé et particulièrement réussi.
Mais cependant, ne nous y trompons pas
Buffalo Bill et les indiens
n'est en aucun cas un miroir du monde, mais dans un élan borgesien une
"chose de plus ajoutée au monde"
, dont il serait dommage de se priver.