Quelle est la fonction de l'artiste ? s'enquit Amanda auprès du talentueux intrus.
La fonction de l'artiste, répondit le Navajo, est de nous procurer ce que la vie ne peut nous donner.
Une bien étrange attraction - Tom Robbins
.
Dans les deux précédents billets j'ai tenté en une mosaïque a(na)tomique de cerner les origines de
H
ulk, en m'appuyant sur l'épistémè. Concept qui rappelons-le
"adopte un point de vue holistique voulant que toute idée fasse partie d'un ensemble au milieu duquel elle prend tout son sens"
(Cf.
M
ichel
F
oucault).
Lou Ferrigno in L'Incroyable Hulk 2008
Ainsi après la bombe H et le culturisme -
il n'aura échappé à personne que la première incarnation cinématographique du personnage l'a été par l'intermédiaire d'un culturiste, Lou Ferrigno
-, nous allons procéder par cohérences diagonales et quitter du moins en partie, le genre humain .....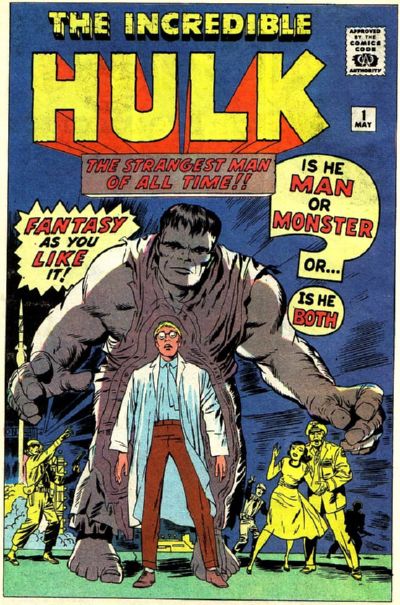 ...
D'une manière générale
H
ulk est l'expression d'une régression sur l'échelle de l'évolution. Ce qu'il gagne en puissance, en force il le perd en intelligence et surtout en humanité voire en moralité.
Hulk en quelque sorte, quitte le giron de l'humain (de la civilisation) pour celui de l'animalité ; et un écrivain américain s'est notamment intéressé au sujet bien avant Jack Kirby & Stan Lee.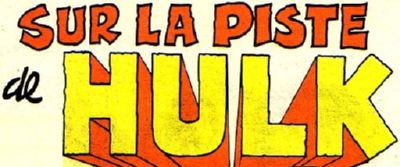 L'Appel de la forêt
"À la bibliothèque d'Oakland (Jack London) avait dévoré les œuvres des grands penseurs scientifiques du XIXe siècle, Charles Darwin, Herbert Spencer et T.H. Huxley et il en avait retenu les idées maîtresses. En particulier, il avait été frappé par l'idée d'évolution, dérivée de l'observation de la nature [...].
Lorsqu'il écrivit L'Appel de la forêt, un ensemble de concepts généraux touchant, parmi les lois de la nature, la nécessité de la lutte pour l'existence, la sélection naturelle, l'adaptabilité au milieu, l'hérédité et le caractère, l'amoralité des processus évolutionnistes, s'était constitué en système dans son esprit [...].
Pierre Coustillas
Et oui, vous l'avez compris, pour ma part l'inspiration majeure (mais pas la seule) participant à la création du "Titan vert" est sans l'ombre d'un doute Buck le chien civilisé qui devient sous la pression des circonstances un loup dans le Grand Nord.
Ses muscles, surchargés de vitalité,
se déclenchaient comme des ressorts d'acier
L'Appel de la forêt - Page 110 - Le livre de poche
...
Si
B
uck (re)devient un loup à l'instar de
B
ruce
B
anner se métamorphosant en
H
ulk, il ne faut pas perdre de vue que
B
uck est aussi une projection fantasmatique de
J
ack
L
ondon.
Un homme qui signait ses lettres wolf (loup), qui avait donné le nom de Wolf House (tanière) à sa maison et qui s'était fait faire un ex libris représentant une tête de loup.
À la vue de ces indices il me semble que Jack London est un bel exemple de lycanthropie, mais un homme qui tout en s'identifiant au Loup mythique reste tiraillé entre l'appel sauvage et sa condition d'être humain. Ce va et vient entre animalité et humanité prend tout son sens si l'on juxtapose L'Appel de la forêt (1903) et Croc-blanc (1906) : le parcours d'un loup né dans la wilderness (voir infra) et qui finira par trouver un foyer dans une famille.
Le parcours inverse de celui de Buck
...
Ainsi la dichotomie
H
ulk/
B
anner se retrouve-t-elle en
B
uck/
C
roc-blanc, et la lycanthropie de
J
ack
L
ondon dans celle du
H
ulk de la première période (1962-1963
The Incredible Hulk
#1 & 2).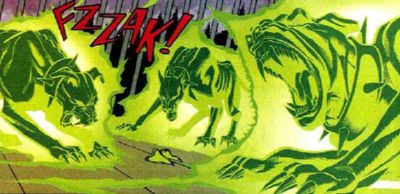 Ron Garney & Sal Buscema
Cependant cet écho d'un atavisme quasi magique s'épanouira lorsque nous aurons remonté le courant de la mémoire phylogénétique du Nouveau monde (ce qui sera l'objet d'un prochain chapitre).
...
Pour l'instant, avec
J
ack
L
ondon nous touchons à l'idée d'hybridité, de dualisme, voire à la schizophrénie. Si la dualité de
L
ondon se situe de part et d'autre du
4ième Mur
, il existe une longue tradition dans la littérature étasunienne de héros duaux. Par exemple,
N
atty
B
umppo ce héros de la Frontière dont
B
alzac a pu dire qu'il était
"ce magnifique hermaphrodite moral, né entre le monde sauvage et le mode civilisé"
. Le héros de
J
ames
F
enimore
C
ooper est en quelque sorte un cas d'école, il propose même une dualité onomastique :
Natty = coquet/chic et Bumppo : to bump/heurter, to bump off/liquider.
Ce pionnier américain, élevé chez les indiens (dualité encore) et qu'ils appellent Leatherstocking (mieux connu des francophone comme Bas-de-cuir) est tiraillé par une attirance romantique pour les grands espaces (d'où émane par ailleurs l'appel qui changera la vie de Buck) et sa mission civilisatrice : opposition wilderness/civilisation que l'on retrouve chez le héros marvelien.
Aparté :
La wilderness occupera une grande partie des prochains billets mais j'aimerais vous faire part d'un fragment de la définition qu'en donne Marc Amfreville.




[..] étendue ténébreuse de la selva où le héros, lancé à la poursuite de son double, retrouve le sauvage en lui-même.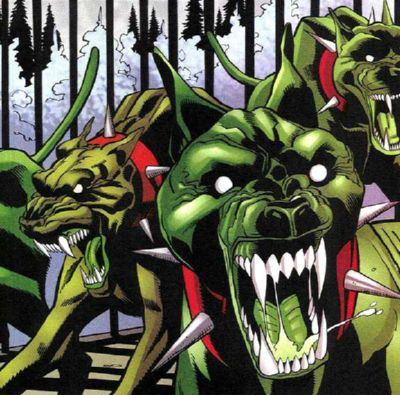 Ron Garney & Sal Buscema
...

Ceci étant dit, n'oublions pas que le titre original de
L'appel de la forêt
et
The Call of the Wild
, le
wild
dont il est question est bien entendu l'appel "sauvage" mais c'est aussi l'appel de la
wilderness
.
Toujours est-il qu'envisager le roman de Jack London comme une influence majeure de Kirby et Lee doit aussi passer par un petit détour sur la réception de celle-ci en son temps :
Dix mille exemplaires furent vendus le jour même de sa publication (alors qu'il avait déjà été publié en feuilleton dans le Saturday Evening Post de New York). "La presse de l'Ouest proclama son admiration" nous dit Pierre Coustillas, et on parle de plus de 400 éditions différentes.
Bref un roman (et un auteur) qui a puissamment engrammé nombre de lecteurs au fil du temps.
Donc un beau faisceau d'indices qui tend à faire de L'Appel de la forêt (et corollairement Croc-blanc) le "plasma germinatif (pour reprendre un terme de London) de Hulk et certainement l'une des influences de Stan Lee & Jack Kirby.