...

Après des milliards de kilomètres à travers l'espace l'

Ikarie

est sur le point d'atteindre et le terme de son voyage, et les confins de l'univers. Mandaté par le

Conseil Mondial de l'Espace

, cette "ville" dont la construction a été réalisée en orbite autour de la Terre transporte quatorze habitants partis chercher la vie sur les planètes d'

A

lpha du

C

entaure.
...
Le spectateur est immédiatement plongé
in media res
, cette entrée en matière laissera rapidement place à un long flashback se terminant par la conclusion de la scène d'ouverture et par la fin du voyage de l'
I
karie.
On est loin, trés loin de Flash Gordon ou de la Guerre des Étoiles avec ce film Tchécoslovaque de 1963.
J'avais lu que des critiques avaient noté des similitudes avec 2001 L'Odyssée de l'Espace ou encore Solaris, pour vous donner une idée du rythme. Et ce n'est pas faux.
Pour ce denier ce n'est guère étonnant, puisque d'aucuns avancent par ailleurs qu'Ikarie XB1 s'inspire du roman de Stanislas Lem ; Oblock Magellana (non crédité au générique)
...
Or donc, il est amusant de constater également des similitudes avec
Commando Spatial
, la série télévisée de 1966. Que ce soit au niveau des décors ; extrêmement dépouillés et froid, que de la danse que l'on pratique. Hé oui, en 2163 on sait encore s'amuser (tout comme en l'an 3000 pour
Commando Spatial
).
En tout cas un soins particulier a visiblement été apporté aux décors, aux vaisseau ou aux combinaisons spatiales ; ainsi qu'aux déplacements en apesanteur par exemple. Et d'une manière générale à la vie dans l'espace et à ses conséquence sur la biologie humaine et sa psychologie. En tout état de cause, les décorateurs et les accessoiristes n'ont pas à rougir de leur travail.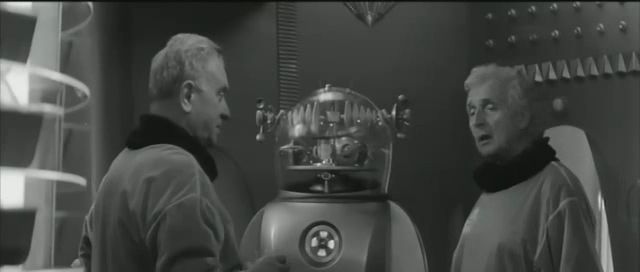 On remarquera une
petite
critique du 20ième siècle dans une
scène
séquence pour le moins étonnante, d'autant plus étonnante qu'elle n'entraine aucune question de la part de l'équipage, et donc aucune explication pour le spectateur.
Cette critique me semble par ailleurs être plus celle de l'Occident (entendre capitaliste), mais c'est de bonne guerre, et justifiée. Du moins en regard des arguments soulevés.


En outre, mais cela n'est peut-être qu'une coïncidence, mais Icarie est le nom d'une utopie imaginé par Étienne Cabet, reposant sur des principes disons communistes.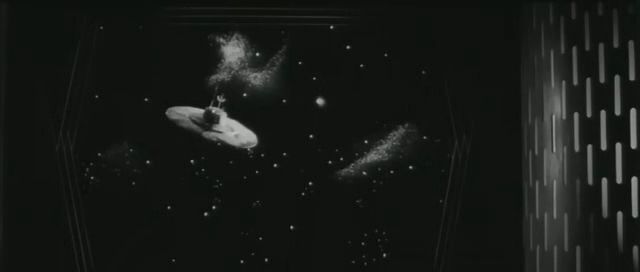 En définitive, même si j'ai largement préféré
Planeta Blur
, pour rester du même côté du Mur et vers la même époque, l'amateur de science-fiction ne devrait pas bouder sa chance et tenter l'aventure
(cérébrale)
d'
Ikarie XB1
.
Ne serait-ce que par curiosité, et pas opportunité si je puis dire. Ce film étant désormais disponible dans sa version d'origine
et en VOSTFR me suis-je laissé dire
.
Évitez celle proposée sous le titre de
Voyage to the end of the universe
, et passablement remonté par nos amis d'outre-Atlantique (On peut d'ailleurs voir sur Youtube un générique où même les noms ont été américanisés).