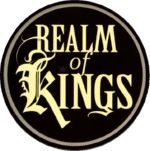 L'univers n'est pas seulement plus bizarre
que nous ne l'imaginons,
il est plus bizarre que tout ce que nous pouvons imaginer.
J.B.S Haldane
...
Nouveau numéro de l'anthologie
Marvel Universe
qui regroupe deux aventures des
Gardiens de la Galaxie
, le prologue de
Realm of Kings
(le nouveau
crossover
cosmique
made in
DnA
), une aventure ayant la
Garde Impériale
S
hi'ar comme protagoniste principal, une autre où ce sont les
Inhumains
qui occupent cette place, et enfin une aventure de
Nova
.
[..] Mettant un point de suspension là où Poe plaçait un point final, la mort n'est plus une fin mais une transition (pour Lovecraft). Une porte entrouverte non sur un au-delà délimité au cordeau par les croyances traditionnelles mais un ailleurs inexploré, infiniment plus redoutable. Dans cet ailleurs et dans le pouvoir des forces qui le peuplent, résident les sources de la peur. Loin d'arrêter le déploiement, la disparition physique de quelques comparses, au contraire, le facilite. C'est en assimilant la substance de ces disparus que les forces inconnue peuvent pénétrer sur la terre et en préparer la conquêtes [..]




Francis Lacassin

Lovecraft et les trous dans la toile peinte

in Les Cahiers de l'Herne
Si la qualité des séries cosmiques de l'éditeur étasunien Marvel n'est plus à faire il n'en demeure pas moins que le prologue de cette nouvelle aventure (Realm of Kings) est tout bonnement époustouflant.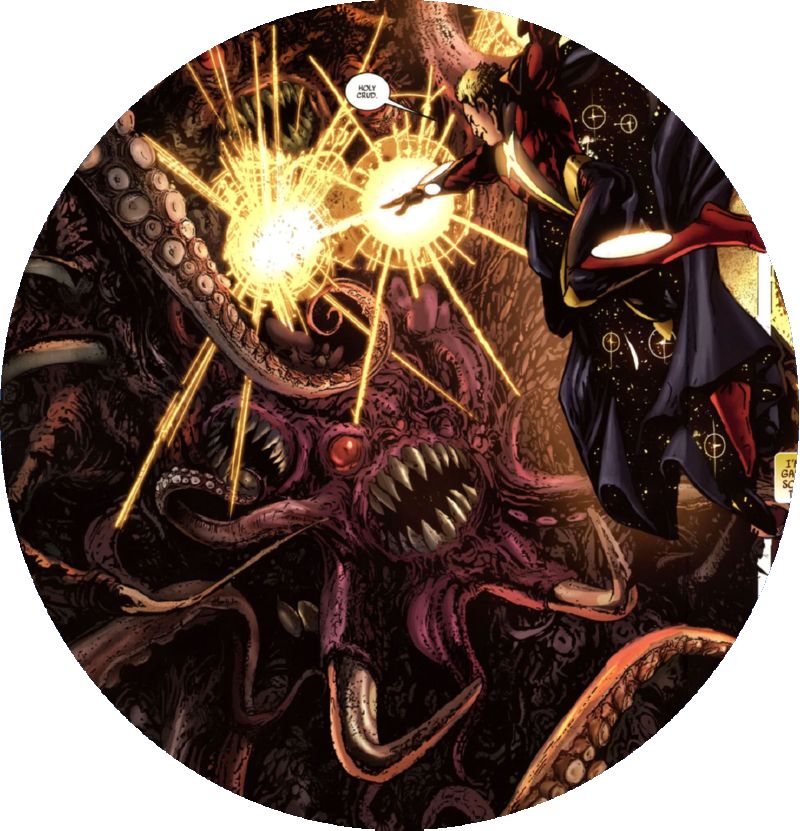 Elle met au premier plan
Q
uasar transformé en pure énergie quantique après avoir été tué, parti explorer l'Abîme
"une immense fissure dans l'espace-temps provoquée par l'explosion de la bombe tératogène qui a mis fin à la guerre entre Krees et Shi'ars"
(voir épisodes précedents).
L'histoire est l'onde de choc de l'eschatologie.
Il y a quelque chose à l'autre bout du temps
qui projette une ombre énorme sur toute l'histoire humaine.
Terence McKenna

Ce qu'il va y rencontrer a déjà fait l'objet de plusieurs études antérieures et l'un des plus célèbres érudits ayant fait part de ses recherches n'est autre qu'Howard Phillips Lovecraft. C'est d'ailleurs à son instigation qu'un jeune poète Robert Blake viendra séjourner à Providence, Blake dont le journal mentionne déjà un Trapézohèdre (ou Trapezohedron dans la langue de monsieur Lovecraft).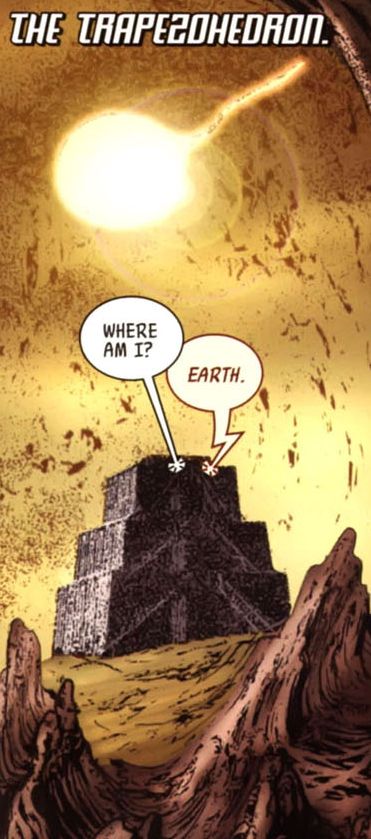 Bien qu'en ce qui concerne
B
lake il s'agit d'un
"polyèdre presque noir, strié de rouge, présentant plusieurs surfaces plates irrégulières. Ce devait être un cristal vraiment remarquable [..]"
(
source
), la coïncidence est notable en regard de l'endroit où séjournera contre son gré Quasar.
Or donc, un autre élément en faveur des thèses déjà développées par
H
.
P
L
ovecraft concerne l'odeur de la chose que va rencontrer
Quasar
et qui semble caractériser les
A
nciens
"terme [..] employé de façon assez indiscriminée, voire confuse, pour tous les êtres antérieurs à l'humanité [..]"
tel que Yog-Sothoth ou encore Cthulhu (Pour en savoir plus lire
Les nombreuses vies de CTHULHU
de
Patrick Marcel
). Ou encore l'interjection utilisée par la simili
-Miss Marvel
de l'Abîme :
FTAGHN.
Une simili-Miss Marvel entourée d'une équipe qui ressemble beaucoup aux Vengeurs de la Terre 616 ....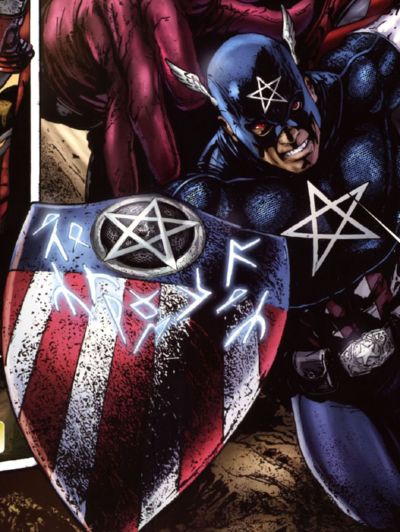 ...
Et là je dis chapeau !
Dan Abnett et Andy Lanning (DnA) réalise ce que j'appellerai un coup de maître, c'est d'une telle évidence que je me demande pourquoi cela n'a pas déjà été fait ( d'ailleurs cela l'a peut-être été ?), transformer l'étoile de Captain America en pentacle.

Brillant.
En tout état de cause je trouve ce prologue tout simplement excellent (ce n'est déjà pas si mal
[-_ô]
).

La nouvelle d'
H
oward
P
hillips
L
ovecraft a fait l'objet de plusieurs adaptations en bande dessinée dont
celle
de
Ron Goulart
&
G
ene
C
olan paru dans sa version française dans l'
Inattendu
.