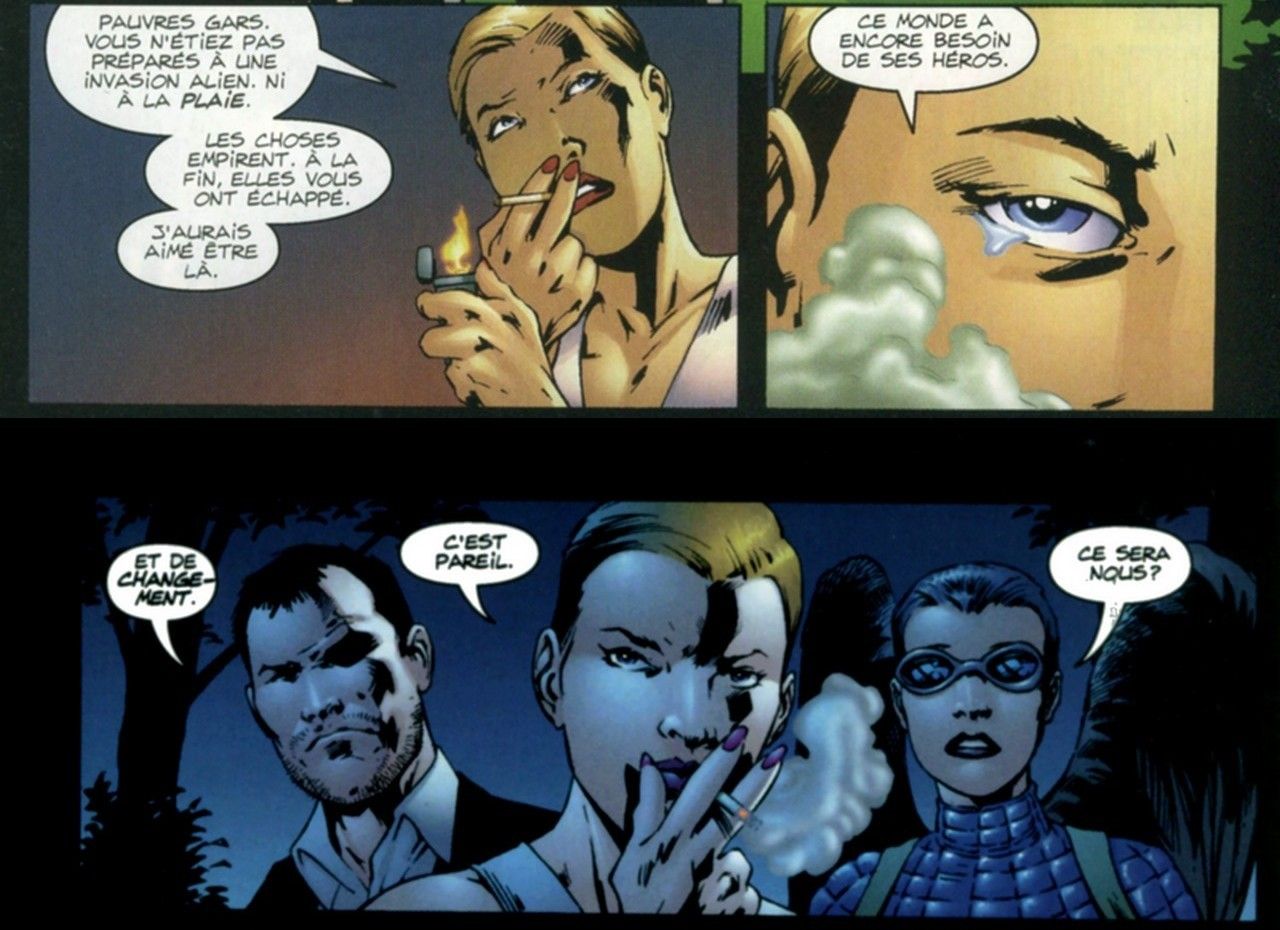 STORMWATCH n°11 (Volume 2/1998)
...

B

âtie sur les cendres de STORMWATCH (créée par Jim Lee), THE AUTHORITY (1999) est une équipe connue pour avoir été le prototype d'un nouveau type de super-héros inspiré par l'idéologie managériale, celui d'individus dit proactifs.
Être proactif c'est devancer le problème avant qu'il n'ait lieu, c'est agir sur les faits et les processus à venir.
Warren Ellis & Bryan Hitch les deux créateurs de la série sont connus au-delà des sphères du neuvième art, en ce sens qu'ils ont inventé deux personnages, Apollo et le Midnighter (pastiches avoués de Superman & Batman) évoluant dans le milieu mainstream de la bande dessinée américaine (le courant dominant, celui des super-héros), ayant fait leur coming out à une époque où ça n'allait pas de soi ; ou disons moins que de nos jours.
Même si pour le dire vite cela tient à un concours de circonstances (où il faut croire qu'ils sont arrivés dans les premiers).
En effet, le dessinateur Bryan Hitch déclarera les avoir dessinés nus dans une case car «il me manquait une case pour les montrer en train d'enlever leurs costumes de ville et se changer en super-héros. » (Pour en savoir +), et un an après ce dessin, certains lecteurs se sont dit : « Bon sang mais c'est bien sûr … ».
Warren Ellis, lui de son côté, déclarera avoir tout planifié depuis le début que cela faisait partie de son dessein à lui.
En tout état de cause si on peut avoir des « doutes » sur l'origine de l'un des couples [i]gay[/i] les plus emblématiques de la bande dessinée étasunienne (en tout cas le plus déluré), il n'en demeure pas moins qu'Ellis a fait feu de tout bois dans ces deux séries (STORMWATCH & THE AUTHORITY sous l'égide alors de l'éditeur Wildstorm) qui l'ont révélé.

Ainsi the Bleed (la Plaie en français) est une « frontière » entre des univers (parallèles) dans laquelle une sorte d'astronef inter-dimensionnel le Porteur (occupé par l'équipe nommée The Authority qui en a fait son QG) voyage.
Mais le bleed c'est aussi en anglais le terme qui, dans le domaine de l'imprimerie, désigne ce qu'en français on nomme le « fond perdu », une marge notamment utilisée pour des annotations ou servant de sécurité lors de la coupe d'une image, par exemple.
Donc dès le départ Warren Ellis place ses deux séries sous les feux d'une lecture dite au « deuxième degré » (pastiches, polysémie, etc.) cher au postmodernisme.
Toutefois après douze numéros Hitch & Ellis tirent leur révérence et passe la destinée de l'équipe à une autre équipe créative, en l'occurrence Mark Millar et Frank Quitely, qui poussera le bouchon du pastiche encore plus loin.
Ce qui nous amène à 2004 et à The Authority : Revolution, maxi-série de 12 numéros écrite par Ed Brubaker et dessinée par Dustin Nguyen.
De l'eau a coulé sous les ponts, et Jack Hawksmoor le leader de l'équipe à ce moment là, occupe maintenant le bureau ovale (de la Maison Blanche).
Et ce n'est pas le moindre des paradoxes pour cette « autorité » qui ne se reconnaître par ailleurs « aucun Dieu ni maître » version simplifiée d'un anarchisme de bon aloi.

Jack Hawksmoor est typiquement un personnage écrit sous le patronage d'une approche postmoderne dont une lecture au deuxième degré offre bien des agréments.
En effet il est le résultat de la rencontre de Spring Heeled Jack (Jack aux chevilles à ressorts) un criminel ayant opéré dans le Londres des années 1830 (1837-1838) qui aurait troqué ses « chevilles à ressorts » pour la pratique du Parkours© et dont la plante des pieds aurait été rechapée par Pirelli© à l'instar de Carl Lewis ou Marie-José Pérec comme on pouvait le voir à l'époque dans des publictés.
À cela s'ajoute les liens qu'entretien ce personnage avec les villes, à mettre en relation avec le célèbre architecte Nicholas Hawksmoor, dont il porte le patronyme, porté sur la psychogéographie (Pour en savoir +) autrement dit une certaine poétique de l'exploration urbaine, du moins telle que vue par des fictions célèbres (Cf. Alan Moore, Peter Ackroyd ou encore Ian Sinclair).
Depuis au moins l'épisode What Can One Man Do (écrit par Elliot S! Maggin et publié en 1971 par DC Comics), où Oliver Queen l'alter ego de Green Arrow s'interroge sur ce que peut faire un super-héros pour aider les autres et où l'idée de briguer un mandat électoral lui vient à l'esprit, un traitement par le biais de la politique titille certains scénaristes de comic books de super-héros.
Voir par exemple EX MACHINA de Vaughan & Harris qui met en scène un ancien super-héros devenu maire de New York dans une Amérique du Nord uchronique.
THE AUTHORITY depuis son lancement par Warren Ellis & Bryan Hitch, joue avec cette idée ; dans la maxi-série dont il question ici, et où l'un de ses membres occupe le bureau ovale on s'attend à ce que cette idée se concrétise.
Mais ce ne sera pas le cas.
On pourrait me rétorquer que « faire de la politique » mériterait d'être clairement expliqué, certes.
Je m'en tiendrai à la définition d'Henri Laborit pour qui la politique « c'est d'abord une science de l'organisation des structures sociales » ce qui laisse un large champ d'action, tout en précisant néanmoins qu'ici, j'attendais THE AUTHORITY surtout sur le terrain de la conduite des affaires publiques, un terrain où l'on peut prendre des décisions concrètes et assez facilement identifiables.
Il n'en sera rien ou très peu, c'est-à-dire qu'on ne s'étendra pas sur les tenants et les aboutissants des réformes et autres changements.
Surtout lorsque l'un des membres de l'équipe rappelle un célèbre docteur de Harvard (du moins selon une lecture au deuxième degré) qui dans la mouvance des années 60 et du moment psychédélique voulait changer les esprits (avant et) pour changer le monde.
Les problèmes se régleront dans des mano a mano virils et via les super-pouvoirs des uns et des autres (voir par exemple la paix singée entre deux belligérants du Moyen-Orient).
Cette absence fait-elle de Révolution une mauvaise histoire ?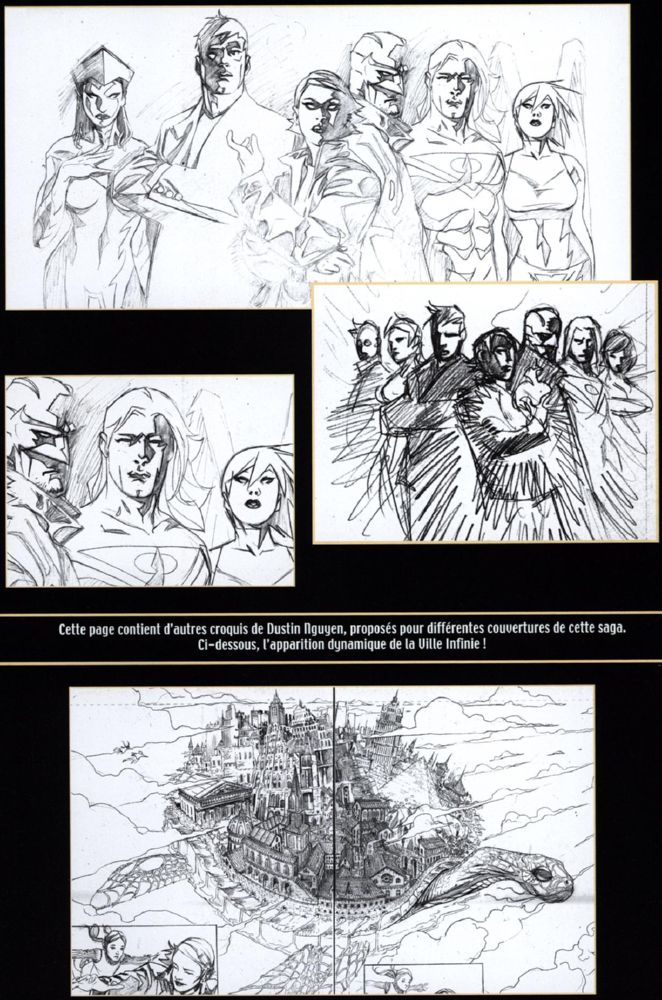 Brubaker & Nguyen y déploient tout leur talent et leur métier et offrent aux amateurs de divertissement un récit captivant où de mystérieux ennemis complotent, où des politiciens retors et sans scrupule s'opposent sournoisement aux velléités de changements, où d'anciens super-héros resurgissent étrangement jeunes et puissants. Sans oublier un peu de psychanalyse freudienne comme il se doit, oui celle sous-tendue par le complexe d'Œdipe, revue et corrigée par une belle dose de mauvais esprit.
Les auteurs nous feront aussi visiter d'autres plans de la réalité, d'autres univers (une constante – ou presque - des univers super-héroïques depuis FLASH n°123 (Pour en savoir +) même si dès WONDER WOMAN n°59 en 1953 il en est déjà question), et il n'y a pas que les univers qui sont plurivoques, les personnages aussi.
On « visite » également les pensées d'une gamine qui n'a qu'une hâte, celle de grandir ou encore celle d'un dur à cuire au cœur tendre.
Oui les stéréotypes ont la vie dure, mais traité avec malice c'est toujours réjouissant.
Bref sur une structure scénaristique dite modulaire, toujours efficace, les deux créateurs ne se refusent rien et s'ils utilisent la politique plutôt comme une sorte de vernis, le tableau d'ensemble qu'ils brossent rend plutôt bien.
Des cliffhanger qui tombent à point nommé, parachèvent la forte impression que laisse cette série.
Et si Brubaker est connu pour être un auteur ès polars talentueux, question S-F ce n'est pas un manche non plus.
Des dialogues de forts mauvais goût (une marque de fabrique de la série) joliment négociés (et ironiques), fort bien traduits, eh oui cette série à été traduite chez l'éditeur PANINI, donnent à cette histoire un léger parfum de transgression.
En outre, loin de la frilosité qui saisie certains auteurs, Nguyen & Brubaker généreusement, n'hésitent pas à créer de nouveaux personnages et à donner corps à de nouveaux concepts, ou à en approfondir d'autres.
Ce qui n'est pas toujours évident lorsqu'on travaille sous le régime du work for hire, c'est-à-dire « à la commande » et où tout ce que vous inventez appartient à l'éditeur.
Avec cette mini-série on a vraiment l'impression d'être au cœur de la "continuité", sans pour autant être perdu ou ressentir un manque.
Le principe dit de continuité se caractérise par un univers fictif commun où les personnages des divers titres d'un même éditeur se rencontrent, s'affrontent, se réunissent, et où les événements peuvent avoir des effets et des répercussions à travers des séries différentes.
Dans une certaine mesure tous les récits publiés par un éditeur tendent à former un seul grand récit, et théoriquement les protagonistes portent sur leurs épaules le poids de leurs actions passées. Pour le meilleur et le pire.
Ce principe de continuité est facilité par la politique éditoriale qui contractuellement n'envisage que le work for hire, c'est-à-dire le travail de commande dont le résultat devient la propriété de l'éditeur et pas celle des scénaristes et des artistes qui l'ont réalisé. Cependant c'est un peu moins vrai de nos jours, où le creator-owned (une série où le(s) créateur(s) en possède(nt) les droits) se fait une place dans le maquis éditorial étasunien.
Ce principe dit de continuité donc, est né des cogitations de Sheldon Mayer et de Gardner Fox lorsqu'ils réunirent plusieurs super-héros, à l'hiver 1940-1941, au sein d'une équipe : la Justice Society of America (All-Star Comics #3).

Une équipe qui servira de modèle à la Justice League of America presque 20 ans plus tard, puis plus récemment à la Ligue des Gentlemen Extraordinaires, voire à l'hexagonale Brigade Chimérique.

Cette idée, qualifiée par Robert Overstreet de "concept le plus révolutionnaire depuis la création des super-héros eux-mêmes", trouve peut-être sa source en 1912 dans les pages de The Century Magazine (1881-1930).

Carolyn Wells y créée alors La Société des Détectives Infaillibles réunissant rien de moins que Sherlock Holmes, Auguste Dupin, [b]Arsène Lupin[/b] ou encore Monsieur Lecoq, etc.

Cette équipe de détectives littéraires vivra une seconde aventure en 1915 dans la même revue.

Elle est aussi d'une certaine manière, le prototype de l'univers Wold Newton[/b] de l'écrivain P.J. Farmer (Tarzan vous salue bien, Escape from Loki, etc.)
THE AUTHORITY a toujours été un blockbuster, dans le sens premier du terme, à savoir une bombe capable de raser un quartier.
Dans cette série, la pyrotechnie et les homicides sont une sorte de patrimoine qu'il faut entretenir, et les deux auteurs de Révolution ne s'en privent pas.
On se demande parfois de qui l'auteur est le double lorsqu'on lit (ou regarde) une fiction, ici dans The Authority : Revolution ça ne fait aucun doute : Brubaker est l'alter ego du villain de cette histoire, son esprit retors en est la preuve.
Et son mauvais esprit le place sur la même marche que Warren Ellis.