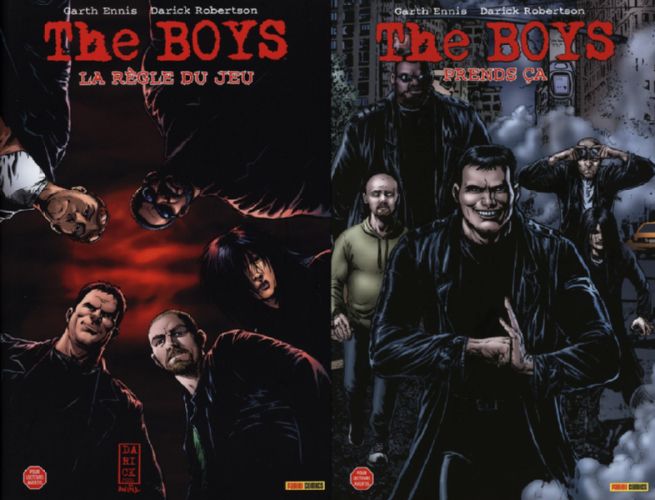 Dans un monde où les super-héros sont légion, une équipe de la C.I.A. est formée pour les surveiller et parfois régler les problèmes d'une façon... radicale. Faites la connaissance de Billy Butcher, du P'tit Hughie, de la Crème, du Français et de la Fille dans les 2 premiers tomes de cette série violente et politiquement incorrecte !
"Il y a dix ans, si nous avions présenté « The Boys » au grand public via une série télévisée, il n'aurait pas été intrigué. Les spectateurs auraient plus ou moins saisi les références à Batman, Superman, Hulk, peut-être même celles sur Spider-Man ou Captain America mais c'est tout.
Aujourd'hui, suite aux succès des grosses franchises cinématographiques, le public s'est ouvert au monde des super-héros. Donc, lorsqu'un avatar d'Iron Man apparaitra, ils sauront de qui il s'agit.
Ça nous facilite la tâche."
Garth Ennis
« Je sais bien que le lecteur n'a pas grand besoin de savoir tout cela, mais j'ai besoin, moi, de le lui dire. »
J
ean
-J
acques
R
ousseau
...

L

'annonce d'une adaptation sous forme de série télévisée de THE BOYS la bande dessinée de Garth Ennis & Darick Robertson (d'abord publiée aux U.S.A chez l'éditeur WildStorm puis chez Dynamite Entertainment suite à son contenu sexuel et violent trop explicite) m'a donné envie de m'y remettre, après au moins deux tentatives avortées.
Et celle-ci me semble-t-il est la bonne, puisque j'en suis (déjà) au troisième tome (dans la première version publiée par les éditions Panini) au moment où je rédige ce commentaire.
Et à la lecture des deux premiers tomes (numéros 1 à 10 de la série mensuelle) je me suis demandé si Ennis & Robertson n'avaient pas envisagé cette série sous l'angle du « what if …… ? » autrement du « et si ….. ? », une pratique somme toute assez courante dans le milieu de la BD américaine.
...

Tous ceux, qui a un moment ou un autre, ce sont intéressés à la bande dessinée d'origine étasunienne ont plus ou moins entendu parler de Fredric Wertham et de son opus intitulé « SEDUCTION OF THE INNOCENT » (« La séduction des innocents ») qui paraît aux Etats-Unis au printemps 1954.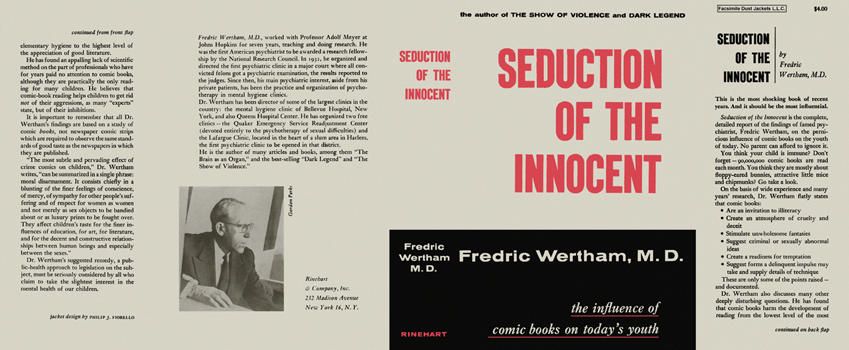 Si la bande dessinée américaine a très tôt fait l'objet de critiques au sujet de sa vulgarité ou de son agressivité, ces campagnes qui visaient au départ par la force des choses, la BD paraissant sous forme de bandes quotidiennes ou de pages dominicales dans les journaux, n'ont eut que peu d'effet avant les années 1940.
À cette époque, et le nouveau média des illustrés de bandes dessinées (comic books) n'y est surement pas étranger lorsqu'on sait que certains d'entre eux vendaient plus d'un million d'exemplaires par mois, les attaques se font plus significatives.
Ainsi dès 1940 justement Sterling North du Chicago Daily News par exemple, n'hésite faire paraître un article où il reproche aux comic books d'avoir une mauvaise influence sur les enfants.
Mais c'est à partir de 1948 qu'apparaît un individu qui restera lié pour toujours à l'histoire de la BD américaine.
En effet, en 1948 le fameux psychiatre Fredric Wertham fait paraître un article dans le magazine Collier's intitulé Horror in the Nursery (Horreur dans la nurserie), deux mois plus tard le 29 mai 1948 parait dans les pages de la Saturday Review Litterature son nouvel article qui cette fois s'intitule : « The Comics …. Very Funny ! » (Les comics ….. très drôle !).
Dans ses articles Fredric Wertham accuse les comic books d'être un facteur aggravant de la délinquance juvénile, un problème qui préoccupe par ailleurs sérieusement les autorités et les parents de l'époque.
Illustrés par des cases de comic books soigneusement choisies, les articles du psychiatre demandent purement et simplement d'interdire la vente de la bande dessinée au moins de 16 ans.
Toutefois, avant que la situation ne s'envenime, les éditeurs de l'époque réagissent en créant un code d'auto-régulation (dès 1948) qui comporte six points :
• Pas de glorification du crime.
• Pas de torture.
• Pas de jurons.
• Pas d'incitation au divorce.
• Pas d'attaque contre des groupes religieux.
• Pas d'attaques contre des groupes ethnique
(Source : HISTOIRE DU COMIC BOOK DES ORIGINES À 1954/ Jean-Paul Jennequin)
Wertham peu satisfait de ce code dont il pense qu'il n'a pas d'effet réuni un certain nombre de ses articles, les remet en forme pour ce qui deviendra son livre le plus fameux donc : « SEDUCTION OF INNOCENT ».
Un ouvrage dont de larges extraits sont publiés dans le numéro du Ladies Home Journal, parution qui coïncide (hasard ou nécessité ?) avec la création d'une sous-commission d'enquête sénatoriale sur la délinquance juvénile, laquelle examinera l'influence des médias sur ce phénomène social, dont bien évidemment celle des de la bande dessinée.
Wertham y témoignera comme expert.
"Pour l'opinion publique, la cause est entendue : les comic books sont un ramassis d'horreur produits par des dégénérés dans le seul but de corrompre la jeunesse. Le mot angalis seduction, suggéré à Wertham par son éditeur, évoque d'ailleurs la sexualité, la jeune vierge corrompu par un vil séducteur". Jean-Paul Jennequin (Ibid)
Finalement le rapport de la sous-commission conclura à l'impossible de légiférer et encouragera les éditeurs à s'auto-réguler.
Ce qui sera chose faite début le début de l'année 1955 : tous les illustrés de bande dessinée publiés par les éditeurs adhérents de la Comic Magazine Association of America seront désormais soumis au Comics Code et porteront un sceau :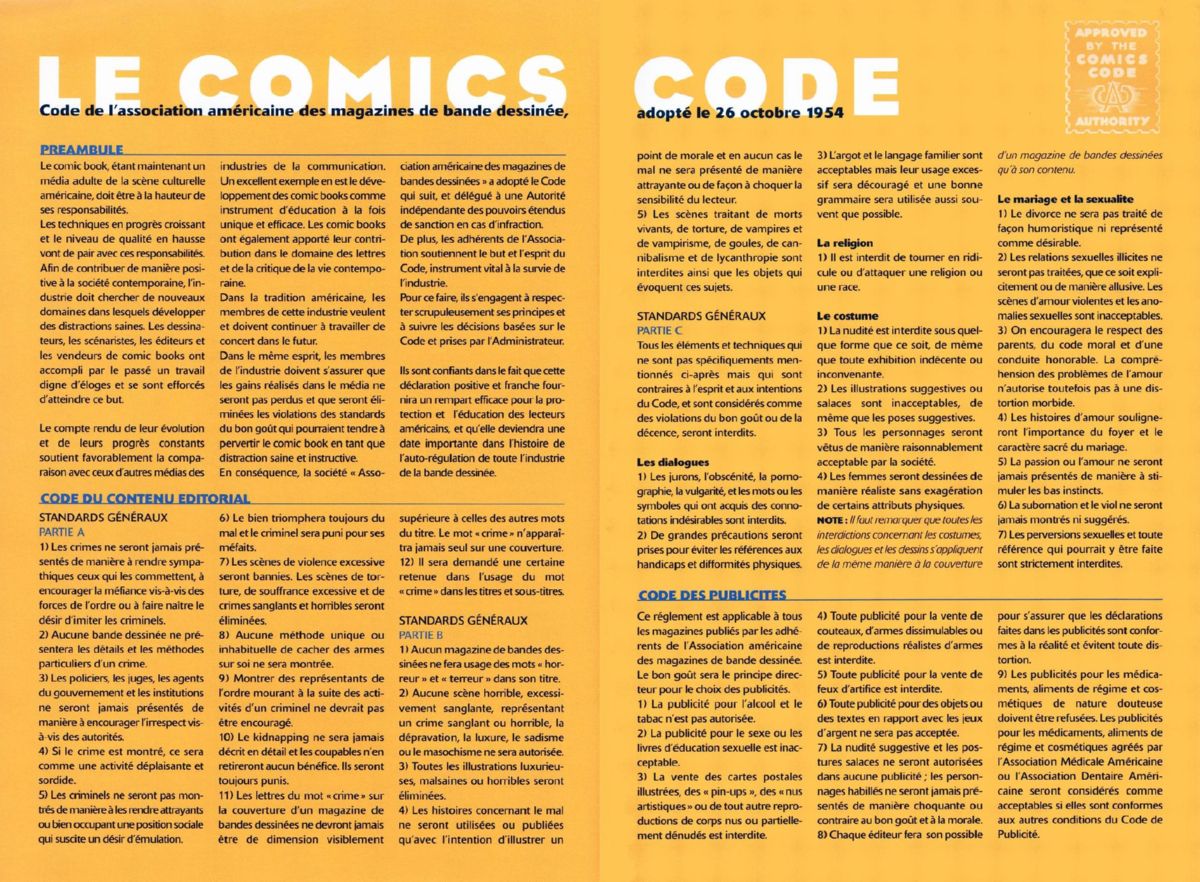 ...

S

'il est somme toute difficile de dire quel public ciblaient les comic books lorsqu'ils sont apparus sur la marché, on date de septembre 1935 avec la parution du premier numéro de New Comics, l'apparition "officielle" de ce nouveau support, force est de reconnaître que les enfants devinrent assez rapidement une clientèle de choix.
Ainsi ai-je trouvé une publicité paru le 1er octobre 1933 dans le supplément du Chicago Tribune pour la marque de céréales Wheatena qui visait essentiellement les jeunes enfants.
En 1933, les comic books ne sont encore que des bonus publicitaires pour fidéliser la clientèle de certaines sociétés.
Le Krypto-Ray Gun, un jouet commercialisé en 1940 (et qui fera une apparition dans un épisode de Superman daté de janvier 1941 mais paru en novembre 1940) vise lui aussi, si je puis dire cette cible de lecteurs.
En outre, dans les années 1940 le Kryptonien sera utilisé pour la promotion de la lecture auprès des jeunes ; dans son propre magazine (le Superman #4 – 02/1940) bien sûr, mais aussi dans les bibliothèques sous forme de poster (Cf. Carol L. Tilley]).
Fin 1939 l'éditeur Fawcett Comics commandera un sondage dont le résultat indiquera que les lecteurs de comics sont âgés de 10 à 12 ans.
C'est d'ailleurs ce sondage, et les cogitations du staff éditorial de cet éditeur, qui aboutiront à l'invention d'un des plus populaires super-héros de l'Âge d'or : Captain Marvel dont l'alter ego est justement un enfant (Whiz Comics février 1940).

L'éditeur qui deviendra bientôt DC Comics suivra une démarche similaire en associant Batman à un sidekick (faire-valoir/partenaire) beaucoup plus jeune que le protecteur de Gotham en la personne de Robin le "Boy wonder".
L'idée de doter les héros adulte d'un sidekick est dans l'air du temps puisque quelque temps auparavant Tarzan (alias Johnny Weissmuller) lui-même, trouvera (juin 1939) un fils adoptif dans la jungle.
Je ne serais pas étonné d'apprendre que le "Seigneur de la jungle" ait influencé le gothamite masqué, lorsqu'on sait comment travaillait Bill Finger.
Ce petit intermède sur les sidekicks tout aussi intéressant soit-il, n'est bien évidemment pas innocent dans le contexte de THE BOYS.
À l'époque, la bande dessinée est un média très populaire : 775 000 exemplaires vendus par numéro pour Whiz Comics ou 1 300 000 exemplaires vendus par numéro pour Captain Marvel Adventures par exemple.
On peut donc comprendre la peur qu'a suscité le livre de Wertham ; bien que selon le romancier de science-fiction Alfred Bester, qui a aussi travaillé pour l'industrie de la bande dessinée américaine dès 1942, les éditeurs étaient très soucieux de préserver leurs jeunes lecteurs :
[…] Nous nous imposions des règles très strictes (écrit-il dans [b][i]Mes amours avec la science-fiction[/i][/b] /1975) en matière de mort et de violence. Les Bons ne tuaient jamais délibérément. Ils se battaient, mais seulement avec leurs poings. Seuls les Méchants se servaient d'armes mortelles. On pouvait montrer l'imminence de la mort – un personnage qui tombait du haut d'un gratte-ciel en criant Arrrggghhh ! – et le résultat de la mort – un corps, toujours face contre terre. Mais on ne pouvait jamais montrer l'instant de la mort ; pas de blessure, pas de visage grimaçant, pas de sang, tout au plus un couteau dépassant d'un dos. Je me souviens du choc que l'on éprouva dans les bureaux de Superman quand Chet Gould dessina une balle pénétrant le front d'un méchant dans une aventure de Dick Tracy.
Nous avions d'autres règles, tout aussi strictes. Pas question de mettre en scène des flics véreux. Ils pouvaient être idiots mais ils devaient être honnêtes. On désapprouvait la police corrompue de Raymond Chandler. Aucun appareil, scientifique ou autre, ne pouvait être utilisé sans avoir un fondement solide dans la réalité. Nous nous moquions des gadgets bizarroïdes qu'inventait Bob Kane […]. Le sadisme était chose rigoureusement tabou ; pas de scènes de torture, pas de scènes de souffrances. Et, naturellement, le sexe était complètement exclu. […]
My affair with science-fiction, traduit par Jacques Chambon in Le livre d'or de la science-fiction : Alfred Bester
Des situations qui ne devaient donc pas êtres si équivoques que cela, et pourtant Fredric Wertham et la sous-commission sénatoriale ont imposé à l'industrie de la bande dessinée d'édulcorer encore plus leurs histoires.
…

A

vant même d'avoir terminé le premier recueil des aventures des Boys l'évidence de la démarche d'Ennis & de Robertson m'était apparue : et si Wertham avait eu raison ?
En conclusion, après deux tomes, si je devais résumer THE BOYS je dirais que c'est l'univers des super-héros vu par Fredric Wertham, et compte tenu de l'imagination du bonhomme, c'est plutôt gratiné. [-_ô]