I was the first man on in the Moon
...
Encore une belle réussite de la télévision britannique,
The First Men in the Moon
est un très très bon téléfilm. Basé sur le roman de
W
ells, il reprend peu ou prou
(forcément
) le scénario de la version cinématographie de 1964 en l'élaguant quelque peu.
M
ark
G
atliss campe un
C
avor beaucoup moins exubérant que son homologue de 1964, et fort attachant.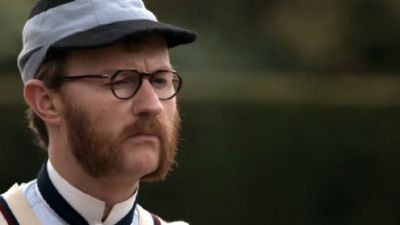 Le professeur Cavor
Rien n'est laissé au hasard, ainsi lors de la démonstration de la
Cavorite
, je me disais "Mais le pinceau, il devrait s'envoler ... et
whoosh
! Le voilà qu'il s'envole"".
J'ai beaucoup aimé aussi le jeu de miroir avec la pomme (celle de
N
ewton bien entendu), lorsque
C
avor a l'idée de son module. Le dispositif narratif renvoie bien sûr à
G
eorges
M
éliès, et si
C
avor emporte les œuvres de
S
hakespeare, il lit forcément
La Tempête
, dont certains pensent qu'elle était une pièce de propagande pour
"pousser la cause de l'exploration, de la colonisation et de la cartographie"
. Il y a ici ou là quelques clins d'œil mais qui ne sont en aucun cas nécessaires au plaisir immédiat que l'on prend à regarder nos deux astronautes édouardiens.
L'ambiance sur la Lune, l'atmosphère de ces séquences m'a rappelé avec un certain plaisir je dois dire, l'émission Bonne nuit les petits avec Nounours & Pimprenelle, dépaysement assuré.
Les Sélénites sont plutôt réussis ..
Bref un moment fort divertissant, et alors même que j'ai préféré la conclusion du film de
N
athan
J
uran au sujet des
S
élénites, le film de
M
ark
G
atiss réussit une séquence particulièrement émouvante avec l'alunissage d'
Apollo 11
et cette famille qui le regarde à la télévision, et l'expression du jeune garçon.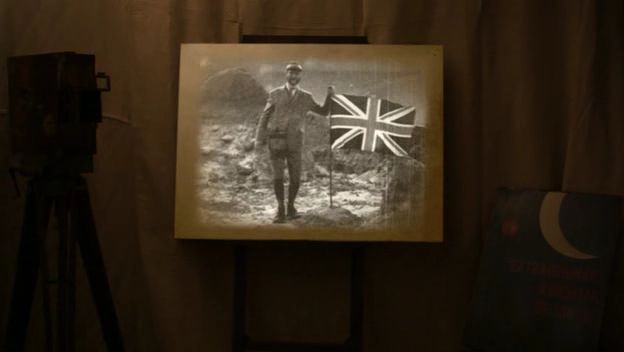 On peut lire également
ici
un autre billet sur le film.