Tahomeh, les amis ...
...
La reprise par le scénariste
P
eter
H
ogan du personnage créé par
M
oore est une belle réussite. Bon,
H
ogan connait parfaitement l'univers du héros de la science pour l'avoir animé durant quelques épisodes et pour avoir écrit les deux mini séries consacrées à
Terra Obscura
.
Voyage dans le Temps, famille, péripéties, univers parallèles
P
eter
H
ogan &
C
hris
S
prouse ne ménagent pas leur héros. La réussite (du moins selon mon point de vue) de cette
reprise
continuation des aventures du protecteur de
Millennium City
incombe aussi en grande partie à l'équipe artistique
(déjà présente du temps de Moore)
. Que ce soit
C
hris
S
prouse
déjà cité
,
K
arl
S
tory ou encore
T
odd
K
lein.
D
arlene
R
oyer la coloriste me semble nouvelle sur le titre, il n'en demeure pas moins qu'elle effectue là un très beau travail.

Peter Hogan a aussi le bon goût d'introduire dans cette histoire plusieurs artefacts de l'époque de Moore (sans pour cela qu'il faille connaître obligatoirement celle-ci) : Albretch & sa mère, le Dr Permafrost (au magnifique costume) personnage que connait bien Hogan pour lui avoir donné le beau rôle dans une magnifique aventure ( Tom Strong n° 24 & 35), les Salamanders (voir supra), ou encore un médaillon qui a déjà fait parler de lui.

Le scénariste cite également, avec à-propos deux inventions de son cru que l'on a vu dans le one-shot ...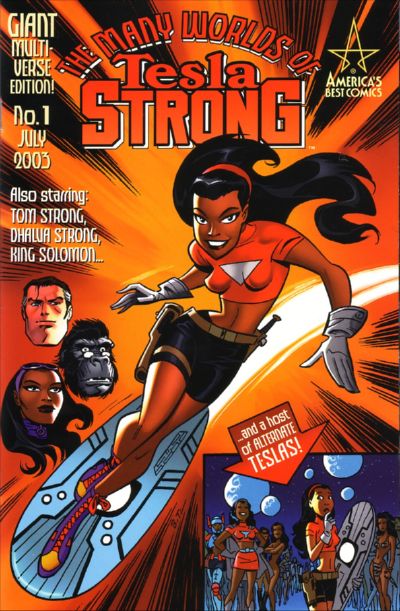 Sans oublier les
Deros
qui n'appartiennent pas à proprement parler à l'univers d'
ABC
mais à celui de la science-fiction (Voir également ici).
Or donc, Tom Strong est un personnage auquel j'ai consacré pas mal d'articles, et une série (sur laquelle j'ai échafaudé une théorie) dont je pense qu'elle est l'une des plus intéressantes jamais écrite par Alan Moore.
Selon l'un des axes de cette théorie,
T
om
S
trong descend tout droit de
Captain Marvel
, et les
Salamenders
/ les
S
alamandres (
Tom Strong
n°8) apportent une nouvelle "preuve" à cette affirmation.
Dans The Marvel Family n° 64 de l'édition anglaise, Captain Marvel se confronte aussi à des hommes de lave ..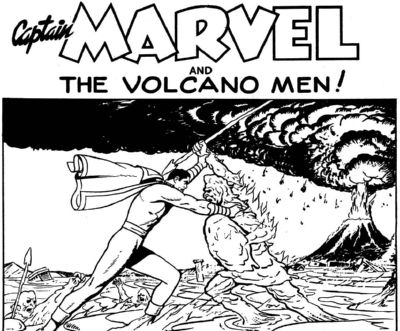 Hasard ? Coïncidence ? Ou synchronicité ?
Toujours est-il que l'édition anglaise des aventures de Captain Marvel semble aussi apporter une signification supplémentaire au symbole qui orne la poitrine de Tom Strong ....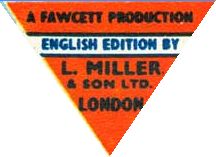 Le triangle qui ornait les publications
L.Miller & son
.
Pour lire l'intégralité de l'aventure intitulée
Captain Marvel and The Volcano Men
, c'est par ici.