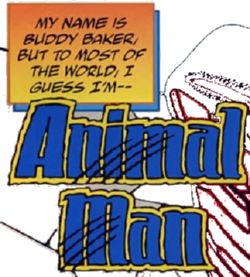 ...
Ces derniers temps j'apercevais plus souvent le nom de
G
erry
C
onway aux génériques de séries télévisées qu'aux couvertures de
comic books
, le premier constat qui s'impose après la lecture de
The Last days of Animal Man
est qu'il n'a pas perdu la main.
En six numéros
C
onway, assisté d'une belle équipe artistique nous raconte les derniers jours d'
A
nimal
M
an.

C'est un véritable plaisir de voir se nouer la trame du récit, rien n'est laissé au hasard, chaque élément entre en résonance avec le tout ; Gerry Conway n'oublie pas le procédé de Tchekhov dit "loi du fusil" qui stipule que si dans le premier acte vous indiquez qu'un fusil est accroché au mur, alors il doit absolument être utilisé [..]. Si personne n'est destiné à s'en servir, il n' aucune raison d'être là. Sauf bien sûr ajouterais-je, s'il s'agit d'un leurre.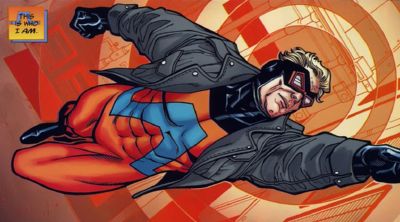 ...
Nous sommes dans un futur proche et
B
uddy
B
aker alias
Animal Man
doit faire face à la disparition progressive de ses super-pouvoirs, à l'apparition d'un nouveau super-vilain en la personne de
P
rismatik (mais qui cependant n'apparaît pas
ex nihilo
), le tout placé sous les auspices de la famille, de l'héritage, des liens du sang (on appréciera notamment que l'un des protagonistes tire ses super-facultés du sang) ...
Tout cela est rondement bien mené, notamment grâce à l'attention que montre
C
onway à ne pas se laisser envahir par des considérations philosophiques au détriment de l'action et de l'émerveillement (cf. l'apparition d'un membre du
Corps des Green Lanterns
) sans pour cela empêcher les personnages d'avoir une épaisseur. Bien au contraire tout est admirablement bien pesé pour nous offrir une histoire à la fois divertissante, poignante et amusante.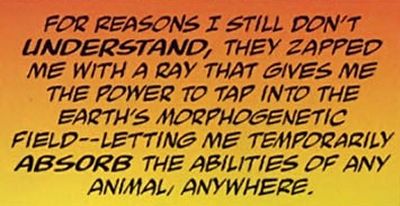 ...
Ainsi les pouvoirs d'
Animal Man
, qui sont rappelons-le la faculté d'intégrer et d'utiliser des spécificités d'animaux se trouvant à proximité : la force d'un éléphant, de voler comme un oiseau par exemple et ce, grâce aux champs morphogénétiques.
Les champs morphogénétiques (ou champs morphiques) sont une hypothèse scientifique théorisée et popularisée notamment par Rupert Sheldrake (cf. La mémoire de l'Univers - 1988).
Et si mon cher Buddy, cette hypothèse propose que toutes les formes minérales ou biologiques, mais aussi comportementales ou psychiques obéissent à des champs qui constitueraient une mémoire régie par les lois de la résonance, à ceci s'ajoute que plus une forme (ou un comportement) est répétée (principe de la chréode) plus son champ se renforce et plus il est influent. Une influence qui s'inscrit par delà l'espace-temps. (cf. la théorie du 100ième singe, le cas des mésanges bleues, ou encore pourquoi il vaut mieux apprendre ses devoirs le soir (voir Y le dernier homme recueil n° 9 éditions Panini)). Cependant si Sheldrake restreint les champs morphiques à chaque espèce, Animal Man passe outre.
Dernièrement le physicien finlandais
M
atti
P
itkänen semble avoir proposé, du moins selon les vulgarisateur de sa pensée (car sa théorie est tout sauf
facile à comprendre
) que notre ADN serait une sorte d'antenne et qu'elle pourrait communiquer ???
En tout cas une théorie très intéressante du point de vue romanesque.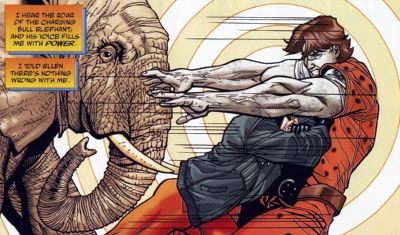 ...
Pour terminer, The last days of Animal Man est une histoire qui mériterait une traduction en français tant par sa qualité intrinsèque que par l'absence de nécessité d'en savoir plus sur le personnage que ce que nous en disent ces six épisodes.