••• Si au début du 19ème siècle, le capitaine John Cleve Symmes tente de faire partager l'idée d'une Terre creuse sans beaucoup de succès auprès des membres du Congrès (il en implantera au moins le thème dans l'imaginaire collectif) ; au seuil du 21ème siècle c'est au tour de l'Espace d'être envisagé selon cette perspective.
« Si nous pouvions manipuler à volonté la courbure de l'espace, nous aurions alors un autre moyen intéressant de voyager dans l'espace. »
Rudy Rucker (in La Quatrième Dimension)
Les prémices du film, qui partent du début du long-métrage jusqu'au moment où une partie de l'équipage du Lewis & Clark pose le pied sur l'Event Horizon, sont une véritable
«
pierre de Rosette
»

permettant d'en décrypter les arcanes.
Le premier élément d'importance n'est rien de moins que le nom du vaisseau de sauvetage lui-même : le Lewis & Clark ; limpide référence à la célèbre expédition nord-américaine de 1803, dont l'inspirateur n'est autre que le président Thomas Jefferson, qui veut « accéder aux terres libres de l'Ouest

»

.
Cette expédition permet de mettre en lumière deux concepts:

• La Frontière (avec un F majuscule) n'est pas à entendre ici comme une simple ligne de démarcation, mais un « espace-entre

»

qui draine des milliers de pionniers ; et qui sépare néanmoins deux territoires : d'un côté la Civilisation autrement dit l'Est, et de l'autre la Wilderness, c'est-à-dire l'Ouest sauvage.
La Frontière est une zone de combat, à la fois physique et métaphysique.

• L'autre concept important qui découle du précédent, est celui de Wilderness dont Jean-Robert Rougé et Marc Amfreville ont donné chacun une belle définition que je me permet d'amalgamer ici : « La Wilderness est la réalité concrète d'une terre non encore explorée, secrète, inquiétante et dangereuse à la fois ; une terre primitive et un espace de solitude adamique sur lequel règne le Mal, où le héros, lancé à la poursuite de son double, retrouve le sauvage en lui-même

»

. Il s'agit d'un des mythe fondateur de l'Amérique ajoute Lauric Guillaud (Cf. La Terreur et le sacré), voir à ce propos mes billets sur Hulk, le personnage de la Marvel.
Au milieu du 20ème siècle John Fitzgerald Kennedy exporte l'idée de la Frontière

«

aux domaines inexplorés de la science et de l'espace

»

(15.07.1960), et dans un même élan la Wilderness, l'une n'allant pas sans l'autre.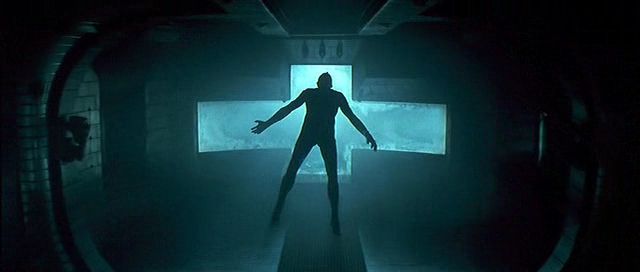 Et à l'instar de Lewis et Clark (ceux de l'expédition de Jefferson), ces nouveaux héros dont l'étoffes vaut sans nul doute celle de leurs prédécesseurs, feront l'expérience de la
«
présence de vestiges qui vérifient un mythe, celui des anciennes civilisation
»

, dixit Lauric Guillaud (ibid).
"Comme la licorne et la gargouille, le trou noir
semble appartenir davantage à la science-fiction
ou à un mythe ancien qu'à l'univers réel."
Kip S. Thorne The search of Blackholes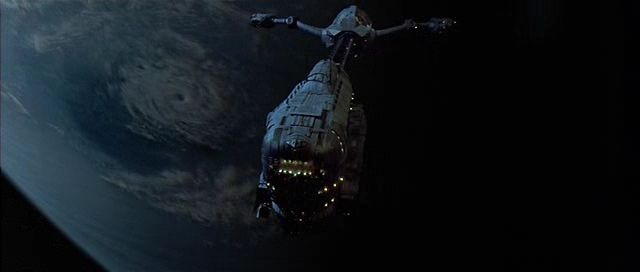 L'
Event Horizon
par ailleurs, n'est pas retrouvé n'importe où, mais aux environs de la planète
Neptune
...
Les Mythologies ..
Alix Ducret
Si Neptune n'a pas l'heur d'être considéré ici comme un dieu marin, il est indéniablement en tout cas celui qui gouverne le subconscient, provoque les maladies mentales et les dépressions. C'est l'archétype de l'intégration ou de la dissolution universelle.
Une définition donnée par Le Dictionnaire des Symboles mais que va vivre intensément l'équipage du Lewis & Clark.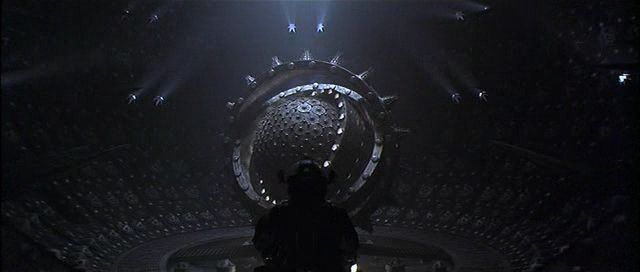 La figure totémique indissociable de la Frontière et de la Wilderness, va trouver un terrain propice à s'épanouir au sein même du vaisseau l'Event Horizon : espace intercalaire par excellence, mais surtout véritable vestige gothique.

Gothique est à prendre ici dans le sens littéraire qu'on lui a donné à partir de la parution du Château d'Otrante (1764) d'Horace Walpole. Le Gothique en tant que genre littéraire, s'attache surtout à dépeindre l'atmosphère de lieux angoissants et inhabituels : le château en ruines (alter ego pétrifié de la Wilderness), le village isolé, ou encore la campagne désertique ; il est lié à la redécouverte de l'architecture médiévale dans l'Angleterre de la fin du 18ème siècle.
Horace Walpole s'est ainsi fait construire, de 1750 à 1764, un faux château médiéval.
De ces lieux et de cette architecture inquiétants, parcourus de labyrinthes, de couloirs naîtra son avatar le plus connu le château hanté.
D'autre part la naissance du roman gothique est contemporaine d'une esthétique de la Mort qui apparait alors en Angleterre.

En outre Francis Lacassin précise que Le Château d'Otrante, œuvre fondatrice de cette vague de ténèbres qui va s'étendre, est : un véritable manifeste présurréaliste dirigé contre la philosophie rationaliste et scientifique de son temps.

Et Thomas Pynchon n'est pas en reste, lui qui voit le roman gothique comme l'affirmation d'une forme de nostalgie pour l'Âge des miracles, c'est-à-dire pour ces temps anciens où chaque chose était supposée possible et où le monde était peuplé de géants, de dragons et de sortilèges, des temps dont la magie a été évincé par la simple mécanique de l'Ère de la Raison. (Tommaso Pincio in Face à Pynchon, Éd. Lot 49).
Diabolique coup de pied de l'âne de la part du gothique que de prendre place dans le nec plus ultra de la science du XXIème siècle : l'Event Horizon.
Mais Event Horizon, le vaisseau de l'au-delà (selon son titre français) n'est pas seulement un manifeste gothique, c'est aussi selon moi un film lovecraftien.
Lovecraft c'est l'univers du XIV° siècle
expliqué par la science du XXII° siècle ...
.........................................
Anonyme
En outre, et pour conclure je vous propose un cadavre exquis (défini dans le Dictionnaire abrégé du surréalisme 1938) juste retour des choses lorsque l'on connait les liens entre le gothique et les surréalistes, or donc disais-je un cadavre exquis à partir de citations du livre de Stephen King L'Anatomie de l'horreur (sur Lovecraft) où la synchronicité remplace le hasard, et résume monstrueusement bien le film de Paul W. S. Anderson :
H. P. Lovecraft, le prince sombre et baroque de l'horreur du XIX° siècle ; (s)es meilleurs nouvelles nous font appréhender l'immensité de l'univers où nous demeurons et suggèrent l'existence de forces obscures et assoupies dont le moindre soupir suffirait à nous détruire : c'est ce concept de mal extérieur qui est le plus grandiose. mais le sexe continuera d'être un des principaux moteurs de l'horreur, même quand il est présenté de façon déguisé et quasiment freudienne, à l'instar de Cthulhu, la création vaginale de Lovecraft. [..]