...

Apparu dans les pages de la Doom Patrol, Flex Mentallo est l'expression d'un évhémérisme en plein cœur du XXième siècle. Détenteur d'un artefact wold newtonien & borgesien ; il est le cousin germain de Superman grâce à Charles Atlas, et le digne représentant d'une lignée d'
hommes forts
remontant jusqu'à Eugen Sandow grâce auquel il se rattache au Seigneur de la jungle : Tarzan
.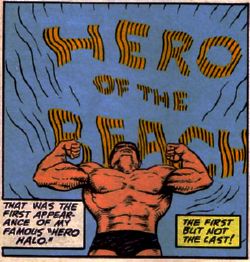 Le vitalisme héroïque dont nous parlent Joseph Altairac, Jean-Luc Rivera et Michel Murger dans l'émission Mauvais Genres consacrée à Conan met en perspective la filiation de Flex Mentallo que je viens de retracer tout en donnant un coup de projecteur sur l'Aura du Héros (ou l'Halo du Héros) une sorte de manifestation méta-physique du pouvoir de Flex Mentallo.

Une aura qui n'est pas sans rappeler le Kiai du karatéka, "cette force cosmique qui n'a ni début ni fin", ou encore le Vril : cette énergie à l'origine du Big Bang détenue par une race intra-terrestre. Voire le Exd (popularisé par Richard Shaver) "le principe vital au cœur de la matière qui fait que la matière inerte peut donner des êtres vivants, les réparer ou les amplifier". On pense aussi à la Force des chevaliers Jedi ou à l'Orgone de Wilhelm Reich (Cf. Doom Patrol #48) ...
...
Comme si cela ne suffisait pas, il s'inscrit dans le projet magique de son créateur
G
rant
M
orrison : l'hypersigil ...
L'hypersigil peut prendre la forme d'un poème, d'une histoire, d'une chanson, d'une danse ou de tout autre projet artistique que vous désirez. [...] L'hypersigil est un modèle dynamique miniature de l'univers d'un magicien, un hologramme, un microcosme ou une "poupée vaudou", lequel peut être utilisé en temps réel pour produire des changements dans le macrocosmique milieu de la vie "réelle".

Grant Morrison Pop Magic !
Mais coup de théâtre ! sans renier ce qui vient d'être dit, les codes d'engendrement ayant participé à l'apparition du héros se trouvent en fait, du côté du
pop art
...
Comment cela peut-il être possible !?

"Dans les années 1950 et 1960, les rédacteurs Julius Schwartz, Mort Weisinger et Jack Schiff avaient mis au point une méthode pour alimenter leurs revues. Les scénaristes sous leurs ordres devaient réaliser des histoires en fonction d'idées de couvertures. [....]
Reprenant à son compte cette méthode, DC Comics Presents invite les auteurs récents de la firme à s'inspirer d'une de ces couvertures mythiques pour reproduire une nouvelle version de l'histoire. [..]"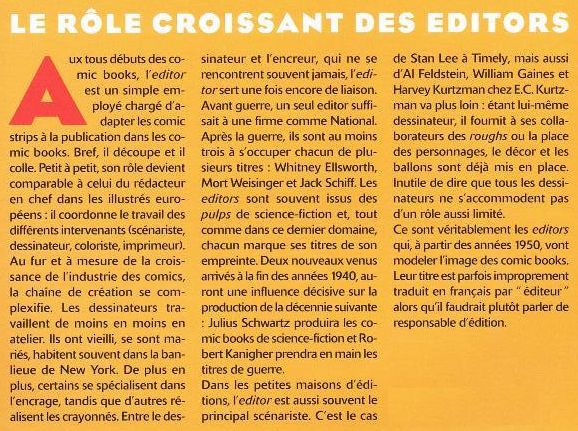 HISTOIRE

DU

COMIC BOOK J

ean-

P

aul

J

ennequin
L'utilisation d'un dessin comme point de départ d'une histoire, est une métode éprouvée dans le domaine de la science-fiction. Ainsi la nouvelle de

Poul Anderson The Longest Voyage

publiée dans la revue

ANALOG

- décembre 1960 - (

Long Cours

en V.F) qui devait lui valoir son premier prix

Hugo

lui a été inspirée par l'illustration de

S

choenherr

(et non l'inverse)

.
"Morrison et Ordway vont insérer dans le récit, des cases présentant, en gros plan, des parties de la couverture [..]
GRANT MORRISON (R)ÉVOLUTION
Y
ann
G
raf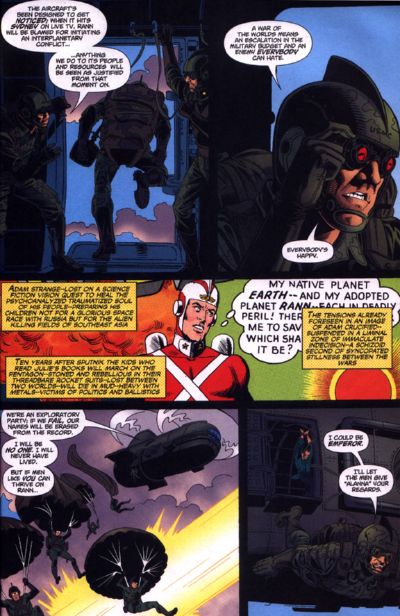 ...
Ces "morceaux" de la couverture (voir
supra
la case panoramique de la page n°19 de
DC Comics Presents Mystery in Space
) sont autant de découpages relevant du
découper-coller
cher au pop art.
Traduction de S

ophie

V

iévard

pour PANINI
Poussant plus loin encore l'utilisation de cette technique
G
rant
M
orrison &
A
ndy
K
ubert offrent à leurs lecteurs un magnifique épisode de
Batman
(
Batman
#656) où
B
ruce
W
ayne est invité au gala d'
Action for Africa
... à
Londres
, dans lequel des tableaux rappelant furieusement ceux de
R
oy
L
ichenstein sont exposés.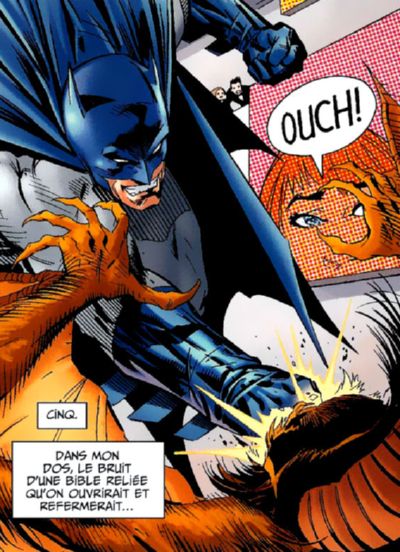 Ces tableaux serviront d'onomatopées lors du combat qui opposera Batman à des man-bats ninjas. Pied de nez à l'usage qu'à fait
L
ichenstein de la BD, hommage à la
série télévisée
des années 60 et utilisation du
découper-coller
du pop art britannique
(vous remarquerez que cette aventure se déroule à Londres)
des premiers âges.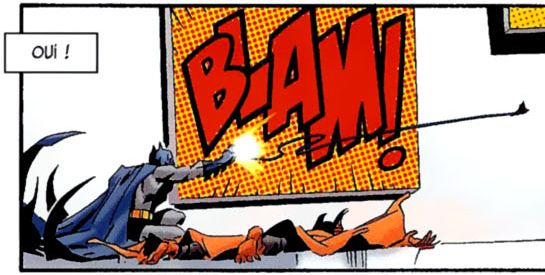 Dans un épisode des
Invisibles
,
M
orrison a poussé la perversité jusqu'à utiliser le titre d'un tableau de
R
oy
L
ichenstein en guise d'onomatopée.
Marvelous !
The Invisibles Vol 3 p 02-03
Mais voilà qu'il est temps de retourner à notre sujet :
Dans mon premier billet j'avais proposé d'utiliser le concept de Krypto-révisionnisme, je vais donc le mettre en œuvre dés à présent ...
Pourquoi y-a-t-il

quelque

chose

plutôt

que

rien ?
...
Le premier arc de la
Doom Patrol
(
Crawling from the Wreckage
) oppose l'équipe de
N
iles
C
aulder aux
Scissormen
. Dans l'épisode #23
Crazy Jane
procède à une séance de
cut-up
, le
cut-up
est à la littérature ce que le pop art "primitif" est à la peinture, alors qu'en filigrane se dessine une aventure qui va prendre place à
Paris
.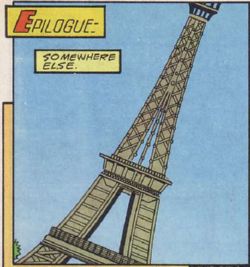 DOOM PATROl Vol 2 #25
Paris la ville où Edouardo Paolozzi a réalisé ce qui allait devenir la préhistoire du pop art ; et où la Doom Patrol va être opposée à la Brotherhood of Dada subtil variation de la Brotherhood of Evil d'Arnold Drake & Bruno Premiani (The Doom Patrol n°86 : c'est ce numéro qui verra changer son titre, My Greatest Adventure en The Doom Patrol) et rattachement à Dada, celui du Cabinet Voltaire (1916).
The Painting that Ate Paris (DP #27), La peinture qui a mangé Paris fera de même avec les membres de l'équipe ...

Des ciseaux, un tableau et Flex Mentallo.
Ce collage de Richard Hamilton est une belle expression de l'hypercompression de Grant Morrison : un Flex Mentallo tenant une sucette géante dans un appartement sis Danny the Street ; on aperçoit le cinéma où nous découvrirons le héros hirsute et barbu. Un cinéma qui projette The Jazz Singer (premier film parlant qui met en scène un blackface : une sorte de personnalité multiple à la Crazy Jane en quelque sorte), la boîte de jambon qui deviendra dans le DP #35 la Delirium Box ( Cf. les Monty Python), une forte présence féminine comme dans la Doom Patrol. Le logo FORD, évocation de Cliff Steele, la planète (la Terre ou la Lune ?) évoque pour sa part l'épisode Lost in Space (DP #88), sans oublier Jack Kirby dont la présence est amenée via la couverture de Young Romance #26.
Et si cela ne suffit pas, la couverture du 4ième numéro de la série consacrée au personnage .....
.... est particulièrement explicite, non?!
Si tel n'est pas le cas pour vous revoyez tout ceci en appliquant la méthode dite paranoïaque-critique mise au point par Salavador Dali :
Doom Patrol n°42
...
En tout cas on peut se réjouir que
Flex Mentallo
ait finalement réussi à arrondir les angles
(du Pentagone)
afin de pouvoir être réédité...
Ce sera ma conclusion.
Dernière minute : même la boîte de jambon du tableau de Richard Hamilton apparait dans la Doom Patrol, la preuve en image !
Merci à Joseph Altairac, Jean-Luc Rivera, Michel Murger et
François Angelier
; ainsi qu'à Serge Lehman et à l'auditeur de la conférence
Pour une définition auto-théorique de la science-fiction
qui nous apportent leurs précisions sur la relation dessin/nouvelle. Merci aux
Mystérieux Étonnants
pour la
tune
de
Batman
Et merci à
S
alvadore
D
ali, et à
Y
ann
G
raf.