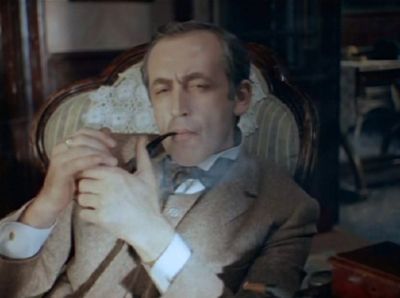 Vassily Livanov
...
Le début de ce premier épisode, qui nous narre la rencontre du docteur
W
atson et de
S
herlock
H
olmes est assez déstabilisant. On dirait la série
L'inspecteur Derrick
transplantée au 221 B Baker Street, dans un Londres parallèle où les personnages s'expriment en russe.
Oui vous l'avez d'ores et déjà compris, il s'agit de la série soviétique consacrée au héros d'
A
rthur
C
onan
D
oyle diffusée en
U.R.S.S
à la fin des années 70 et au début des années 80 derrière ce qu'il était encore convenu d'appeler le
Rideau de fer
brrrr !!
C'est par l'entremise du
Captain Midnight
que j'ai eu accès à cette rareté
(en VOSTFR s'il-vous-plaît)
. Merci
Captain
!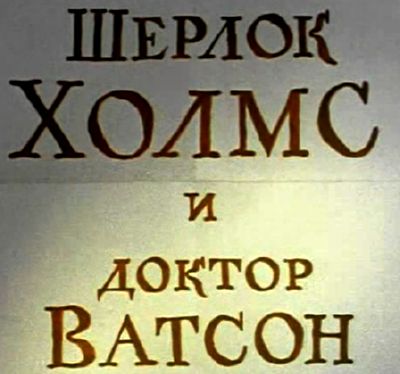 Ajoutez à la description que je vient de faire une ambiance très pesante ; si je ne savais pas qu'il s'agissait de la rencontre entre Watson et de Holmes j'aurais pensé qu'il allait y avoir un meurtre dont la victime aurait été l'un ou l'autre des deux colocataires. D'autre part une certaine nonchalance, voire une langueur est puissamment imprimée par la mise en scène. Rien qui ne puisse captiver le spectateur pensez-vous !?
Que nenni, au contraire cette ambiance et la présence à l'écran des deux principaux protagonistes m'ont littéralement envouté, sans rire. C'est tout simplement stupéfiant.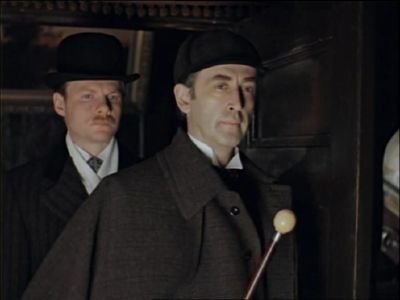 Du grand art !
Vassily Livano campe un Sherlock Holmes plus vrai que nature, il forme avec Vitaly Solomin un duo très attachant, après seulement un peu plus d'une heure de métrage ; saluons la prouesse.
En définitive une série qui démarre sous les meilleurs auspices, pleine de surprises dont la moindre n'est pas de nous offrir des plans fixes et assez longs, voire incongrus telle la scène où Holmes explique à Watson le raisonnement qui l'a conduit à déjouer l'entreprise criminelle :
Étonnifiant !!
Laissez-moi vous conter deux anecdotes avant de vous quitter, en 2006 Vassily Livanov a été décoré de The Oder of British Empire pour son rôle dans la série, et en 2007 une statue a été érigée sur les quais de la Moskova prés de l'ambassade britannique - en Russie donc - où Holmes a les trait de Livanov et surtout selon Bernard Oudin cette statue est la seule au monde qui réunit les deux compagnons créés par A.C. Doyle.
The game is afoot !