(Blue Öyster Cult - Veteran of the Psychic Wars)
"La germination produit l'arbre, détruisant la graine mais préservant l'espèce. Le menuisier produit la table, détruisant l'arbre mais préservant le bois. Ces parallèles illustrent bien la convergence des religions vers une seule conclusion."
...
Imaginez la créature de
F
rankenstein en
Chapeau melon & Bottes de cuir
, un flim où il est question de microfilm ; un flim qui vous
manage
les méninges sans ménagement non pas comme un tour de magie mais plutôt comme un tour de manège.

Lors des événements qui ponctuent ce flim le Kali Yuga autrement dit l'Âge des Ténèbres, un cycle commencé le 18 février 3102 avant Jésus-Christ dans l'après-midi

(belle précision)

est sur le point de s'achever, la fin du monde est proche.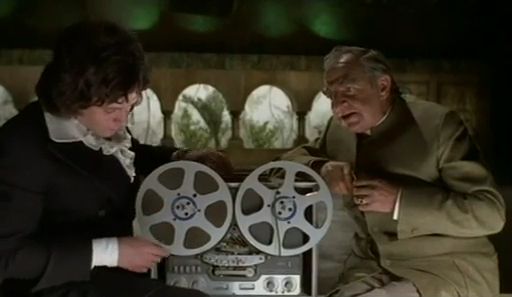 ...
La mort de son père va précipiter
J
erry
C
ornelius
(prix Nobel)
dans une aventure complétement tarabiscotée ce qui crée, en l'additionnant au jeu des acteurs, un jeu pour le moins détaché, un climat assez singulier mais pas déplaisant, bien au contraire.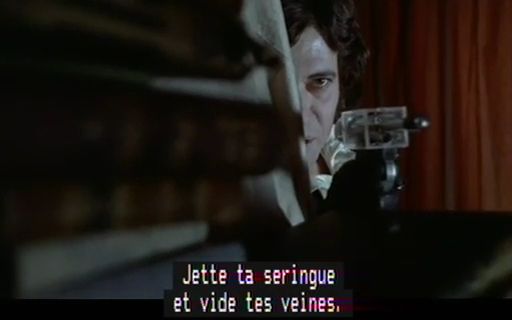 Vous l'avez d'ores et déjà compris, Les Décimales du Futur (1973) est l'adaptation du Programme Final, le premier roman du cycle que Michael Moorcock a consacré à son héros Jerry Cornelius.
Pour tout vous dire je ne suis guère client de ce cycle romanesque, et c'est le titre français qui m'a interpellé, et qui m'a chahuté l'imagination.
DANDIES
Le dandisme : un culte de la différence dans le siècle de l'uniforme. [..]
Les dandies et leurs proches se composent une

dissemblance qui proscrit les idoles du jour : utilité, vitesse, argent.
Plus insolent que transgresseurs, le dandy récuse dogme et injonction, opposant le singulier au multiple, le peu au trop, les vacances au labeur, la réserve à l'effusion, et le délire de sa rigueur à la morne économie des ménages.
Le dandysme : un monde métaphorique aux couleurs du soleil couchant, un exercice impossible.
[..] Roger Kempf

Et bien m'en a pris, certes un léger temps d'adaptation m'a été nécessaire, mais une fois pris le tempo - très proche de certains épisodes de
Chapeau melon & Bottes de Cuir
- cela a été un vrai plaisir que de suivre les péripéties décousues qui constituent la trame de ces
Décimales du Futur
.
...
Des dialogues drôles et/ou décalés, des situations absconses et/ou loufoques; des événements aléatoires qui tendent à s'agglutiner ; on nage entre deux eaux dans un léger délire mathématique. Coolamundo !

Un cocktail improbable aux ingrédients antinomiques qui en dépit de ce que l'on serait en droit d'attendre m'a captivé et divertit. Ce qu'au demeurant n'a jamais réussi à faire le roman dont il s'inspire. Nothing is perfect.